You should shave your pubic hair every 2 to 4 weeks. Ideally it should be done before the hair grows to more than a quarter of an inch.
Pubic hair is something we all have, but it's not something we talk about. It is personal preference how often you shave your pubes, and it depends on your lifestyle.
Whether you're a woman or a man, if you've ever shaved your pubic hair, you must have been caught in the midst of a tug of war between shaving it and not shaving it.
Shaving your pubic hair is the most common way for men and women to deal with unwanted hair on the pubic area. It's also a process that can be very painful if not done correctly. The question that you have to ask yourself is how often should you shave your pubes?
A lot of people remove their pubic hairs on a monthly basis, some may do it weekly while there are those that don't remove at all.
It is down to the individual to decide how long they want to keep their pubic hairs. However, there are a few factors you should consider when deciding how often should you shave your pubic hairs.
In this blog, I'll be going through the different methods of pubic hair removal and how often you should be doing it.
How Often should you Manscape?
Hair removal is something that virtually every man needs to do at some point. How often should you manscape? The days and age of being a caveman are long gone. Today it's about keeping yourself clean and groomed.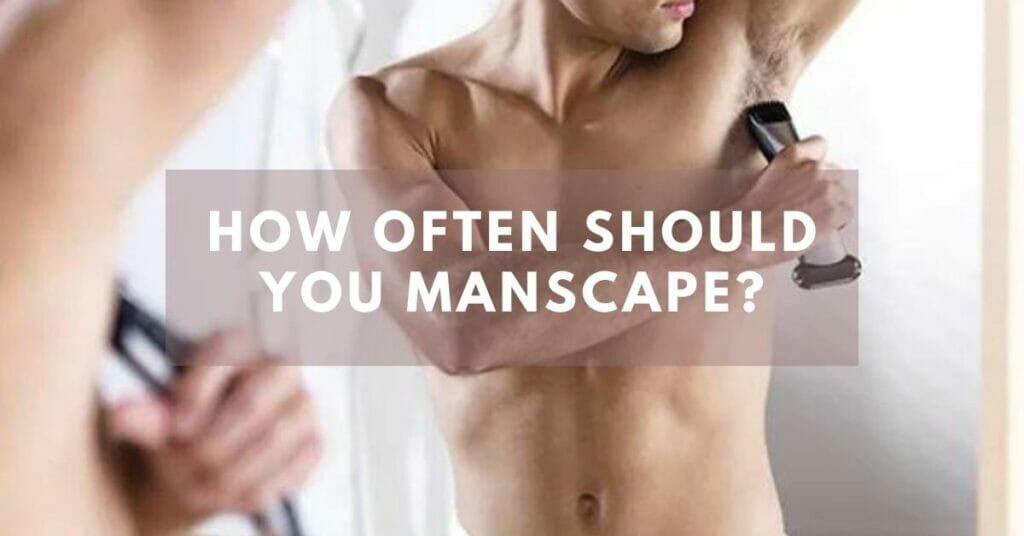 Even though having body hair is not a problem for a lot of people, there are a lot of men who tend to remove it because of society norms. You can do it as often as necessary, less often than necessary or not at all.
Many people prefer to do it as little as possible, but it's not the healthiest or most practical choice. Doing it at least once a week or once a month is much better.
In the following paragraphs, we will determine how often you should groom your body parts.
How Often Should You Shave your Pubes?
A survey by the American Journal of Men's Health asked 4000 men how often they groom (shave or trim) their pubic hair. Of these, 50% said they do so regularly.
Shaving the pubes is more of a matter of preference than anything else. If you like the way you look and you feel more confident , then you should go for it.
You should shave your pubic hair every 2 to 4 weeks. Ideally it should be done before the hair grows to more than a quarter of an inch. It is known that hair below the surface can still grow even after it is cut to the skin, so this probably means you should shave every few days if you want a completely smooth pubic area.
There are many ways to remove pubic hair each method has its own ingrowth hair timing. Some methods, such as shaving with a razor, produce hair more rapidly while others, such as wax and laser, produce hair more slowly. So you shave your pubic area according to need and preference.
People who got irritation and rashes by shaving down there can shave once a month to avoid discomfort.
How Often Should You Shave Your Armpits?
While some people like to remove them every month and a few people like to keep them for a longer time. I would suggest that you should remove hairs when they become visible.
The hairs in the armpit do not grow as fast as the hair in other parts of the body, so you can shave twice a month. But do not overdo it. If you remove them on time, you feel fresh and comfortable.
How Often Should You Shave Your legs?
As a matter of fact, you really don't have to shave your legs each and every day. Most men don't do it that either. Shaving your legs isn't something you need to do every day.
Just take care of them when you have time you can shave every two to 4 weeks. Use a good quality body trimmer and you'll get a nice smooth shaved look that looks great.
If you want to use a shaving cream or lotion, make certain it is fragrance free and hypoallergenic.
How Often Should You Shave Your Chest?
Most guys that have a little chest hair, or don't do the whole "big hairy gorilla look" when it comes to having chest hair, keep it trimmed up pretty short. While there isn't really a right or wrong answer to this question, if you like a hairless body then you can shave every week.
How Often Should You Shave Your Nose and ear Hair?
It is not always necessary that you shave your nose and ear hair. When the hairs start to protrude from the nose, you need to get rid of them. You can do this by trimming them using a pair of small scissors. The best way to know if your nose hair needs trimming is to look at it in the mirror.
You may need to trim your nose and ear hair using scissors every week or two. If you have a thick growth of hair, you may need to trim it once or twice a month.
FAQs
Is it safe to shave Pubic Hair Males?
It is actually considered to be very safe to shave your pubic hair. Pubic Hair is basically a secondary hair, which helps to protect the soft and sensitive skin underneath. Shaving it off is no different than any other part of the body. However, there is a little more risk of razor bumps and ingrown hairs, which is why most men prefer to shave with electric trimmer.
Is it healthy to shave pubes?
Yes, shaving pubic hairs is a healthy way to groom your pubic area. It saves the skin from bacteria and irritation. Hair removal creams and shaving itself, allows the skin to breathe freely and thus avoid the formation of rashes.
Does pubic hair make you smell?
There is a natural and primitive reflex in pubic area which causes the growth of hair. Most people do not realize that hair in the pubic area does not get washed out. The hair continues to grow and thus it creates odor. It is not a very strong or unpleasant odor, but it can be annoying.
Is it better to shave or wax pubic hair?
It is personal preference that what you like to use both have their own pros and cons. Shaving is a good idea If you are in a hurry. The problem with shaving is that the hair grows back in a week or so. Waxing is a better option, it takes time but it is not hard to manage the pain, it is a good solution for the people who want to get rid of the hair for a longer period of time . Waxing is more effective than shaving and it is also a good treatment for ingrown hairs as it removes the hair from the root.
Is it safe to shave Pubic Hair with razor?
Yes, it is safe to shave pubic hair with a razor. However, you need to be careful that you shave the hair at the right direction and spread the shaving cream or gel before shaving the pubes.  A wrong movement can cause skin burns and irritation.
Should You Shave Your Pubes?
Yes, it is necessity to take proper care of your pubic area. A recent survey has found that 96% of female and 87% of male students in America have groomed or removed their pubic hair partially or completely in the past month. Thus, the majority of people are shaving their pubic hairs.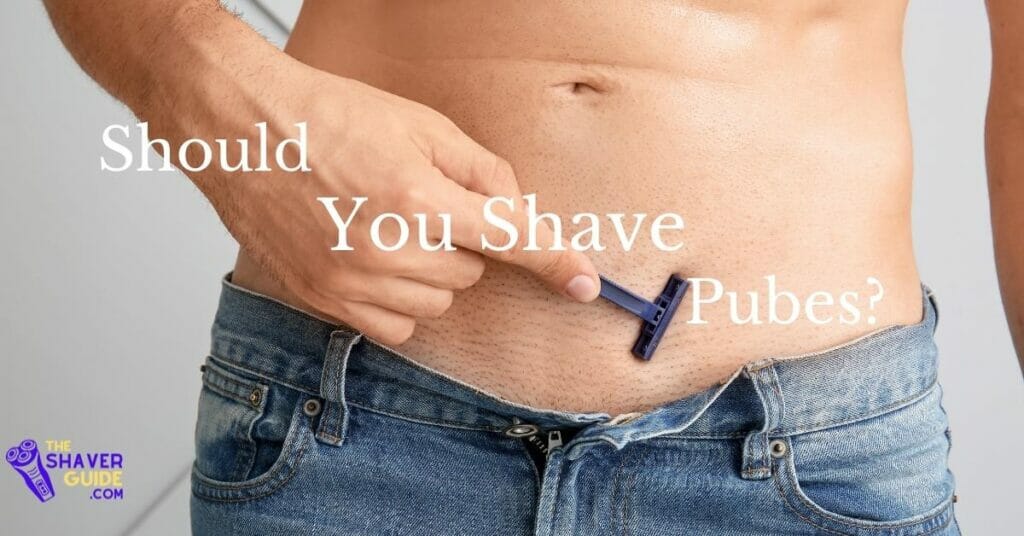 Shaving pubic hair is also necessary because of long hair in the pubic area, Bacteria and sweat can cause skin irritation . When you shave down there, it makes you feel good and look better. It will be easier to maintain good hygiene since the area will look and feel clean.
Your partner will be attracted to a clean and neat pubic area. Foreplay is another great reason to shave down there, clean pubes also makes sex more enjoyable.
Women tends to like it clean down there. A nicely groomed manhood will make your partner happy. Most commonly reported reasons for removing pubic hair are related to sexual activity and sexual expression.
Cleaning pubes will increase your confidence and attractiveness. You will notice a great improvement in your mood after grooming your pubic hair.
Conclusion:
If you have gotten to the point where you want to start shaving your pubes, then you're probably curious about how often you should be shaving them. It may be a little strange at first, but you will soon get used to it. It is all about personal preference.
Some guys like to shave them often and some guys prefer to keep them for a few months. It is all about the lifestyle you want to live.
There are three main reasons why you might shave your pubes:
1. To achieve a more groomed and attractive appearance
2. To remove pubic hair for hygienic reasons
3. To achieve more sensitivity when being intimate with your partner
If you want to know more about pubic hair and other hair facts, we encourage you to read our other blog about hair facts. Comment about your routine how often you shave your pubic hair in the comment section.