Meridian vs Manscaped both companies want their electric ball trimmers in your hand. But, you can't have both at once. So, which one is better for you?
Which is safer to use?
Which brand offers more usability and durability? Check out our complete guide and see which one is worth buying.
After all, it's all about the most sensitive parts!
When it comes to under-shaving, we all know we can be very picky. So, sometimes it is hard to choose the right option.
Meridian and Manscaped are two of the most talked best electric ball shaver brands out there in the market today. Both have released a variety of different models over the years, and they are often compared. But, which one is made for you? Which one has more value to money?
Let's check it out.
Manscaped 4.0
Manscaped The Lawnmower 4.0
Skin-safe Rustproof ceramic blade
Blades are replaceable
Wireless charging station is convenient
Waterproof Design
Meridian Trimmer
The Meridian Trimmer
Light weight
Waterproof design
The ceramic blade
Manscaped vs Meridian Complete Comparison
Design:
When putting both body trimmers side by side you'll notice not much difference in design. Both are somewhat identical to each other.
The Trimmer from Meridian comes in a trendy slim design that fits well in hands. Its small handle makes it easy to use for full body and groin grooming. And it is secured to use in every cranny of your body without cutting or hurting your skin.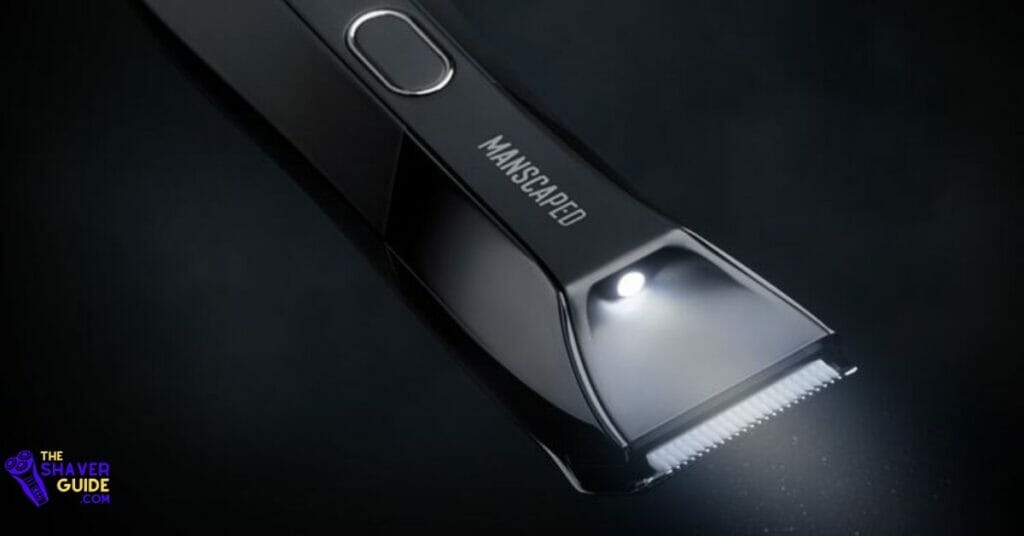 Manscaped Lawnmower 4.0 is a bit thicker than the trimmer and also a little bit smaller. Both Trimmer has ergonomic design which is necessary for any pubic hair trimmer.
Both trimmers are waterproof so you can use them in or out of the shower.
Blades:
Blades are essential parts of any body razor be it electric or conventional. For the safety of the user, they have to be of very high-quality materials and durable.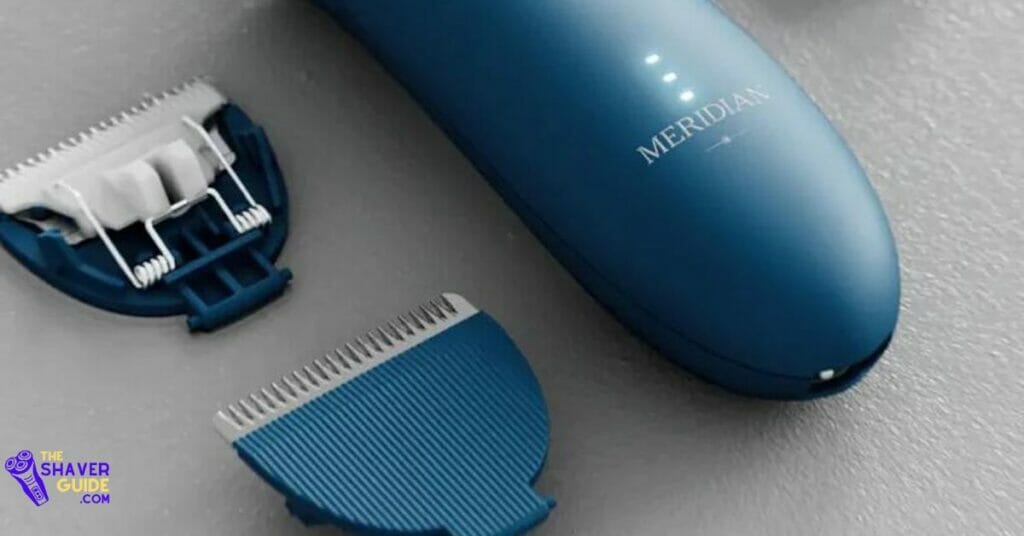 Meridian uses 1.5" Skin-safe ceramic blades that tend to keep their edge longer than the steel blades. These are soft enough not to cut your to your pubic area. The company used sensitive shaver technology for sensitive skin. Meridian's blades are one-fourth wider and appear significantly larger. So trimming hair is quicker with these wider blades.
Manscaped Lawnmower 4.0 uses the same technology used in Lawnmower 3.0. They also use SkinSafe replaceable ceramic blades for clear, clean, and uncut trim. Blades are 1.25" inches wide. While using Manscaped you have to be little cautious users report having cuts using the trimmer carelessly.
Performance:
Functionally there's no difference between these two pubic hair shavers. They are both perfectly good trimmers for trimming pubic body hairs. Meridian uses sensitive share tech which makes it a good choice for anyone who is looking for a sensitive ball trimmer. The Lawnmower seems to run smoothly. Meridian shaver showed better performance and ran more smoothly than Manscaped.
If you want to trim out all the hairs on your chest, you would probably need a dedicated body hair trimmer. As you don't want a single trimmer for your under shave and your rest of the body and face.
Guide combs:
Guide combs are not only necessary for preventing nicks and cuts but they also make using a trimmer convenient. Without them, you can't adjust the size you want.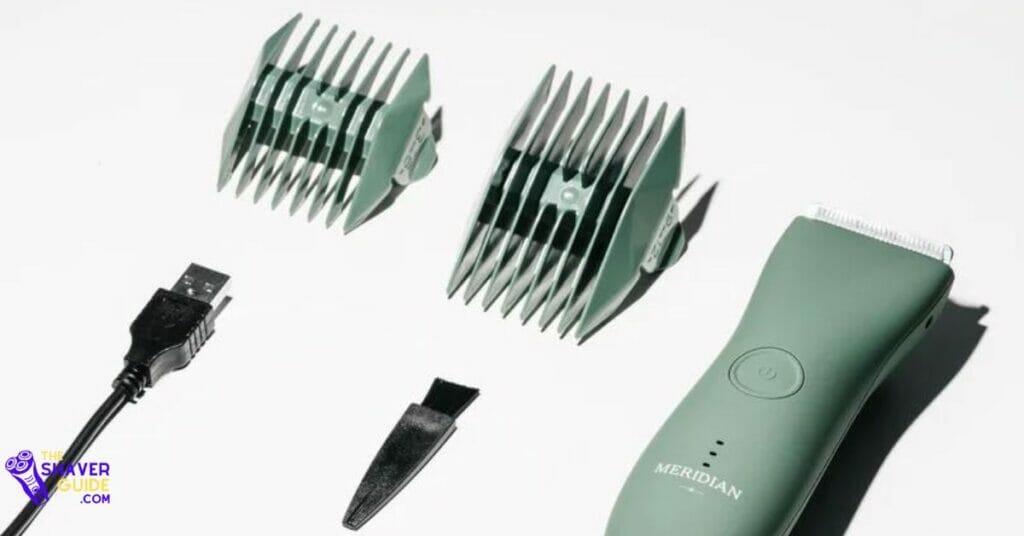 So, The Trimmer from Meridian comes with two guide adjustable guide combs of sizes 3-6mm and 9-12mm. These guide combs are used to handle coarse and curly hair without painful nicks and pulling. You can use one guide comb at once.
Guide combs from the trimmer are slightly difficult to put on. But you can accomplish it on your second or third try!
Similarly, Manscaped's Lawnmower 4.0 comes with two guide combs. Size ranging from 1-4. You can simply press them up or down to the desired level to operate them.
Battery:
How would you feel when your trimmer suddenly stops working with the job only half done? Nah! Never. You would never want this. So you need a battery that lasts longer and gets the job done. If battery capacity is low you wont be able to shave more often your pubic hair.
Meridian uses a rechargeable Li-ion battery (Battery capacity is not mentioned.) that is enough to run the Trimmer for 90 minutes on a single charge. However, It takes approx two hours to fully charge the battery. You can charge it via the USB-c cable that comes with the box. The battery provides enough power to vibrate the blades at 6000rpm max.
Note: Meridian comes without a charging dock or brick. So you have to use one of your spare docks or bricks to charge the trimmer.
In Manscaped, you will find a massive 6000mah Li-ion battery. It gives the motor an impressive 7000rpm speed which is, to be honest, the fastest in any electric trimmer.
Note: Manscaped arrives with a wireless charging dock, and a USB-c power cable. The wireless dock makes Manscaped's Lawnmower4.0 relatively easy to charge.
Color options:
Meridian offers you two colors onyx and black.
While Manscaped has just one to choose from, black.
Weight:
The weight of your pubic hair trimmer is not something you would want to ignore. Because you don't want to get tired of holding the trimmer and left your process unfinished. So when it comes to weight you would want a piece that is not very heavy.
Manscaped weighs 8 ounces on the other hand Meridian is much lighter and weighs only 4.2 ounces.
Cost:
The cost of the hair trimmer is one of the most important factors to consider when purchasing one. If you spend too much money on your pubic hair trimmer, you may not use it often to justify the cost.
However, if you buy a cheap one that breaks after only a few uses, then you are likely to end up wasting money on something that was simply not worth it. For example, If you are looking for an affordable private hair shaver that cuts your hair without any problems, then an inexpensive model may be all you need. Talking about the cost of our current competitors,
Meridian Trimmer is available online for 74 USD. However, the Manscaped is a bit more high-priced and will cost you 84.99 USD.
Some Additional Features:
| | | |
| --- | --- | --- |
| Feature | The Trimmer by Meridian | Manscaped The Lawnmower 4.0 |
| Grooming | Electric Below-The-Belt | Trimmer for Groin and Body |
| Noise level | Quiet | makes a little sound |
| LED light | No | Yes |
| Blade replacement cost | $20 | $20 |
| Travel lock | No | Yes |
| Overcharging Protection | No | Yes |
Our Verdict: Meridian Vs Manscaped Best Groin Trimmer:
Although both trimmers will work fine for you, The Meridian pubic and body trimmer comes with a few additions that distinguish it from Manscaped's The Lawnmower 4.0 and make it a superior choice. Its ceramic blades are safer for to you use down there. And even if used a little carelessly there are very few chances of cutting your skin. Although Trimmer's adjustable guard sizes are somewhat hard to put on, you would settle for it for your safety. Also, Meridian is less expensive so that makes it a good choice.
FAQs:
Which is better Meridian or Manscaped?
In my opinion, Meridian is better. It offers more safety with waterproofing and ceramic blades. It's easy to handle. This provides more value for money.
Can you use Meridian Trimmer on your balls?
Yes, you can. But be very careful as it can cut your most precious parts!
Is the ball trimmer any good?
They perform well as trimmers. But you can't compare them with some of the high-end electric shavers like the Philips one blade.