If you're looking for the best shaver, you've got the Braun Series 9 and Panasonic Arc 5. These brands have been around for many years, and both have a lot to offer, making it difficult for us to choose each other.
The Braun Series 9 Vs. Panasonic Arc 5 is one of the most talked about topics among electric shaver enthusiasts. Both of these products deliver the efficient and effective performance expected from their manufacturers, but how do they measure against each other?
Let's discuss in this article, we will compare Panasonic Aric 5 vs. Braun Series 9 to help you decide which one is better for your personal use.
Related
Braun Series 9 vs Braun Series 7
Braun Series 9
Sensitive skin-friendly blades
Wet dry Electric razor
10000 sonic vibrations per minute
Battery life is great Up to 60 Minutes
The carrying case is compact
Panasonic Arc 5
Panasonic Arc5 Electric Razor
14000 Rotations per minute
Wet dry Electric razor
Five precision ultra-sharp blades
Shave Sensor automatically adjust power
Battery Timing up to 45 Minutes
Which is better, Panasonic Arc 5 or Braun Series 9?
Braun and Panasonic are two of the world's biggest manufacturers of electric shavers, and both companies are constantly releasing new updates to their product lines.
But which one is better? Panasonic Arc 5 vs Braun Series 9. We'll give you some pros and cons to help you decide.
ARC-5 Panasonic Razor Head
The Arc 5 Panasonic and the Braun series-9 have matching shaving heads that play an important role in determining the ergonomic concept of both the Arc 5 Panasonic and the Braun series-9.
A shaving razor such as the Arc 5 has a more bulky shaving head when compared to the A4 shaving razor. However, despite the bulkiness of the heads, ergonomic features contribute to a closer shaving experience due to their ergonomic design.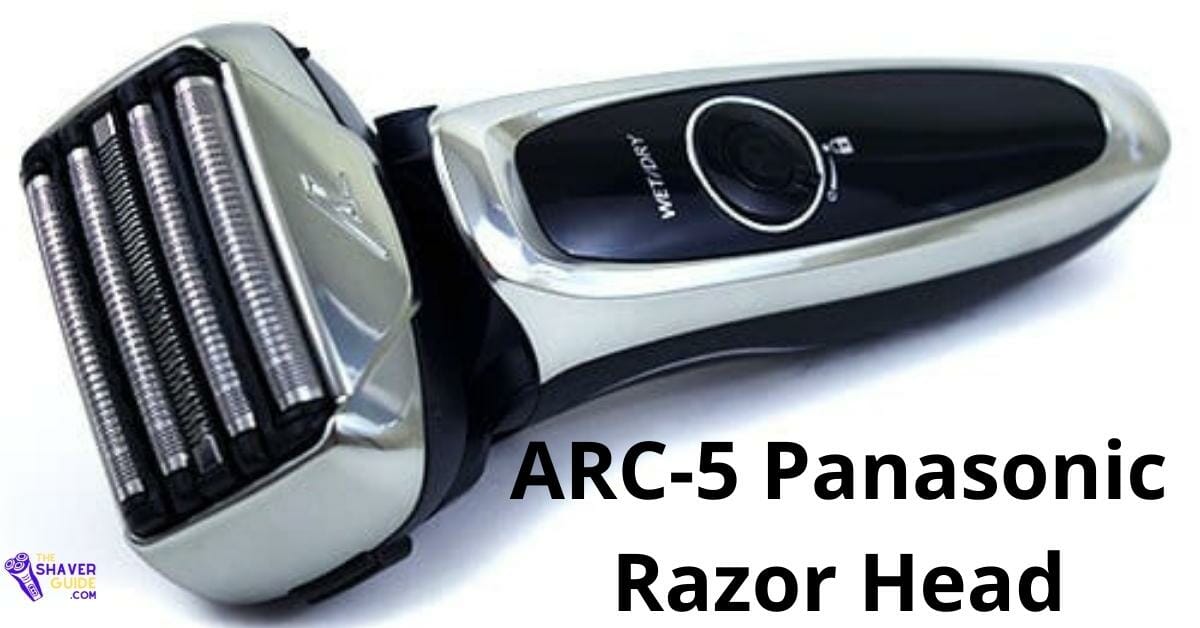 This Panasonic Arc 5 shaving head has a multi-flex feature that gives you various shaving options. Similar to the rotary shaver, the shaving head has a rotary pivoting capability that allows the shaving head to follow facial contours while shaving.
A Panasonic shaving head can make many movements, including back-and-forth, side-to-side, and other movements. In this product, the lock mode is located at the back of the product. As well as assisting in the activation of the head, it also assists in retaining the head in place.
It features a multi-flex pivoting head that allows you to trim around different contours of your face by allowing the Panasonic Arc 5 to adjust to various levels of flexibility.
There are also areas on your face, neck, and chin that can be shaved using this device. A shaving monitor is also built into this device, detecting whether you are shaving too much.
A shaver set to slow down automatically will provide a more comfortable shave due to this feature.
Braun series 9 Razor Head
There are five shaving elements on the Braun shaver head to help you get the perfect shave.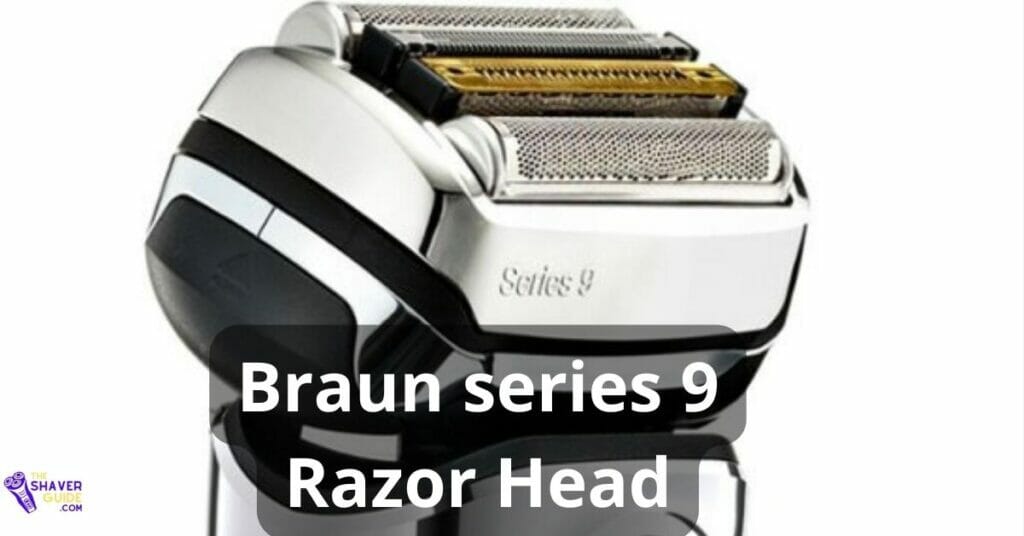 The Braun's head can be molded to any shape, so you do not need to worry about it hampering the head. To lock the Braun's head, you slide the front button down, making 10-degree increments.
With a bulky shaver, you will still be able to catch the upper lip hair when you exert more effort rather than merely blowing quickly at the face.
A Braun men's series-9 razor features a full-length pop-up trimmer that gives you a precise and comfortable shaving experience.
Although Braun series 9 can do a fantastic job of reshaping the tips of neck hair and sideburns, it can't match the rotary head-to-head.
With its comfortable Flexi head, the Braun Series 9 makes it possible for you to move in ten different directions at one time.
In this way, you will be able to shave your entire head without any difficulty at all. With this durable shaver, you will not have any issues getting to those hard-to-reach areas even when they are hard to reach.
Panasonic Arc 5 & Braun Series 9 cutting components
Braun Series 9 and Panasonic Arc 5 are two of the most popular electric shavers on the market. While they're both high-end products, their differences are stark.
Let's take a look at these shavers' components of cutting and see how they stack up against each other.
Panasonic Arc 5 Elements
In the Panasonic Arc 5 shaver, the Precision Outer Foils are the elements that are responsible for achieving the best results.
In the same way, they are tilted to ensure that they are also following the contours. Approximately 30 degrees is the contouring angle of the elements when tilted.
Panasonic's Advanced Slit Blade is designed to deal with flat-lying hairs. As a result of the middle trimmer's added resistance, this blade type lies at the core of the blade system.
If you apply more pressure to this variety of shaving or cutting elements, you will be able to have them float on your skin.
Five ultra-sharp precision blades on the Panasonic Arc 5 make it so precise.
Additionally, the blade has a very thin aluminum foil that helps to make shaving the face a very simple and effortless task. There is no doubt that you will enjoy a close, comfortable shave that is close to your skin.
Braun Series 9 Cutting Elements
In the Braun Series 9 men's shaver, an aggressive blade system has been employed to enhance shaving performance.
The active trimmers of this type allow for the management of culpable hairs by using five shaving elements.
There are two types of trimmers; Lift and Cut Trimmers that are titanium-coated to deal with flat-lying hairs and Direct and Cut Trimmers that perform similar duties.
Besides the two trimmers, Braun includes a smoothing Skin Guard and two stubble-removing OptiFoils.
There is a huge difference between the two trimmers in terms of the advantage they provide to the user. Those with sensitive skin, for instance, will be able to experience intolerance to the two trimmers when using them. Trimmers mercilessly plow people with such facial hair.
With each stroke of the Series 9 shaver, users will experience a great experience that makes shaving an enjoyable experience.
The fact is that even though you may not have skin allergies, sometimes you might find yourself with red spots on your neck.
It is temporary and caused by the titanium material used to coat the trimmer, which causes red spots on the skin.
Braun Series 9 is equipped with five shaving elements, which means the Series 9 offers a wide variety of shaving options.
You can capture more hair on the first stroke due to these elements. It is designed to work well on various hair types, and every time it is used, one can expect a flawless shave.
The shaving performance of Panasonic Arc 5 & Braun Series 9
Shaving performance is an essential component of this review. There appears to be no major difference between these savers, but let's take a closer look at how they perform.
Through this process, you will be able to see the differences in each shaver and decide which one would be the best for you.
Shave Duration
There are many factors to consider when determining how long it will take to complete the shaving process, but it seems Arc 5 will have an advantage in these conditions.
With the advancement of technology, almost any shaver can now handle thick and matted beards without too much difficulty. Panasonic's Arc 5 is equipped with a powerful and fast motor that makes running smooth and easy.
As one of the fastest shaving motors on the market right now, it runs at 14,000 cuts per minute (70,000 crosscutting actions per minute).
This might be the product for you if you want a quick, clean shave and want it to be as quick as possible.
Smooth shaves
In terms of proximity, the Arc 5 might win the race, but shaving involves more than mere proximity. We should also consider how easy it is to use the product as another important metric.
This Series 9 electric shaver is one of the most comfortable thanks to its redesigned shaving head, more powerful motor, and skin guard.
The Series 9 offers excellent comfort and ease of use and is an absolute pleasure. The blades of this machine are not heated by a less powerful motor than the one found in Arc 5. To make the Series 9 feel uncomfortable to use, you would have to exert a great deal of effort.
Considering the Panasonic Arc5 electric razor heats up relatively quickly, it does not offer as much margin as the other models.
If comfort is more important to you than speed and closeness, then the Series 9 would be an excellent choice.
A powerful motor coupled with five cutting elements is capable of generating a great deal of heat, which can create irritation on the skin.
The new third-generation Arc 5 shaver from Panasonic eliminates this problem by adding a layer of protection to the cushioned comfort rollers that protect the skin from cuts.
As for comfort, despite the Series 9's improvements, it remains the better option if you are looking for a more reliable watch.
Energy-saving battery
Both shavers are cordless, allowing you to shave from anywhere and plug in once they're empty (dry only). Both devices require about an hour to charge completely, so there is no difference, and you can start using them after just five minutes.
Defining speed
We are now going to take a look at speed, which is another aspect of speed. Our research revealed that the Panasonic Arc was capable of 70,000 cutting actions per minute while the Braun was only 40,000, based on comparing the cutting actions per minute.
Thus, it can be said that the Panasonic is nearly twice as fast as the Samsung! Nevertheless, keep in mind that the Braun model isn't a leisurely plodder and is capable of doing the job in a timely manner.
What is the best way to shave? Wet or dry
It is possible to shave wet or dry with both shavers. If you need them in an emergency, you can use them in the sink, or if you are in the shower, you can use your gels and foams for a very smooth experience.
Furthermore, both shavers have a waterproof design, allowing them to be used in any weather. Make sure they are cleaned with running water before you use them.
Final Verdict Braun Series 9 vs Panasonic Arc 5
In the end, both Braun Series 9 and Panasonic Arc 5 shavers will get you the same great results. If money is not an issue for you, go with what feels more comfortable in your hand, or add features that you think would benefit your experience.
Whichever you choose from Braun Series 9 vs Panasonic Arc 5, it will likely feel like one was better than the other. But remember that that feeling is likely a subjective one.
A better shave at a lower cost should appeal to performance and budget-conscious buyers. Panasonic Arc 5 wins this competition.
Don't make this decision based on opinions; instead, ask yourself what you need and what you're looking to get out of your next shaver.