Are you tired of using archaic manual shaving methods? Are your facial hair growing thicker and faster than ever before?
If you answered yes to either of these questions, it might be time to switch to an electric razor.
But which one is the best?
In this post, we'll compare the one of the best product of both brands. Remington vs Norelco Electric Shaver and provide a clear winner.
So which one should you buy?
Read on to find out!
Whether you prefer a smooth, hairless face, artistically groomed beard, or a neat mustache, facial hair is one of the most distinctive features of a face.
When it comes to shaving, your shaver is the most critical tool. Some types of razors are more suitable for travel, and others are just as good for wet or dry shaving. Consider your shaving style and skin sensitivity when shopping for an electric razor. Consider battery life and whether or not you're a frequent flier.
When choosing an electric razor, get one that is of good quality and comes from a well-known brand.
Our in-depth comparison of the Philips Norelco 9300 and Remington F5 5800 electric shavers covers everything you want to know.
What's in the box?
You'll find quite a bit of stuff in the packet about the Norelco. –
A brand new shaver,
an instructional manual,
a Grooming-Club membership card,
some cleaning cartridges.
SmartClean system,
SmartClick precision trimmer
A handy plastic tool to assist you in removing heads
A power adaptor, and finally
a wonderful pouch
Now let's turn to Remington F5 5800 and see what they have in the box for us.
A brand new shaver
A cleaning brush
And a power adaptor.
Now let's move on to the design of both these shavers and see how they look.
Comparison between Norelco 9300 vs Remington F5 5800
Remington F5 5800
Norelco 9300
Design:
Norelco is Philips' most advanced wet & dry electric shaver. It's been awarded the IF award for design for the year 2015. So, when it comes to the design, the Norelco 9300 is very ergonomic and modern looking. Shaver's body is mainly made of plastic, which makes it lightweight and rust-proof. The shaver weighs only 5.9 oz.
Despite being mainly made of plastic, the shaver has a premium chrome look. Glacier blue color dominates the body of the shaver.
There are just three buttons (power button, plus and minus buttons) on the front of the shaver right over the display screen. The buttons are so perfectly integrated into the shaver's body that you wouldn't even feel them with your eyes closed.
The display screen displays battery indicators- there are five levels-low battery indicator, cleaning indicator, shaving heads replacement indicator, and travel indicator. A protective cover on the front of the shaver covers the display and shows you the indicator locations. A travel lock prevents your shaver from starting the shaver accidentally while traveling. To turn on the travel lock you will have to press the power button for three seconds.
The back of this razor, Unfortunately, is not very attractive. You'll notice textured grips behind the neck and on either side of the rear. These grips help your shaver fit nicely into your hands even when using it wet. There's a charging slot at the base of the handle.
Remington's F5 5800 is a beautiful device for its price. It is one of the best budget shavers for men out there in the market. If we talk about the design, the shaver appears promising. It has a slightly curved handle to better fit in hands. You'll notice charging indicators and the power button on the shaver. When you hit the power button, the indicators turn green showing you how much charge is left. The shaver is built with a mixture of chrome and plastic.
Shaving heads/ Blades :
Shaving heads are the key selling point of any shaver because the ultimate goal is to cut hairs closely.
The Norelco uses rotary-head technology for shaving hairs. The rotating heads of the majority of rotary shaving heads have three blades. Blades are self-sharpening. Philips used brand new v-track precision blades in Norelco that use a super-lift and cut system.
According to Philips," The blades are angled at the optimal cutting position resulting in a more comfortable shave that is 30% closer."
The head features three rotating heads. There are three separate shaving heads in the shaver, each of which is composed of two components: a guard and a razor blade. The shaving unit pivots in 8 directions to cut 20% more hair in a single pass. The heads lift the hairs and then cut them. It also has a contour detection technology to quickly detect and adjust to facial contours like chin, neck, etc.,
As you move the shaver on your skin, hairs will stick to the slot and be cut by the spinning blade behind it. Philips recommends replacing shaver heads yearly, which will cost you some bucks.
The Remington F5 5800, on the other hand, is a foil shaver using a three-stage cutting system. It uses intercept shaving technology to cut the hair. Right in the middle, you'll find some cutters that cut longer hairs. The foil then cuts the shorter hairs close to the skin.
Remington has Pivot and Flex tech cutting head in its F5 5800 series. A pivoting head helps navigate angular parts of the face, such as your jawline. The entire head adapts to every angle of your face for optimum coverage, and the two flexing foils maintain the blades in close touch with your skin. The dual foils: Two independently improved flexing foil screens and a pivoting neck adapt to the contours of your chin, cheekbones, and neck to minimize distance while relieving pressure.
In Remington F5 5800, you'll have surgical stainless steel blades. The blades are sharp and long-lasting, so cut the hair closely.
Trimmer:
Unlike many shaving brands like Braun and Panasonic, Philips has introduced an independent trimmer for its 9000 series. It is only intended to be used for detailing (which, to be fair, it does well.). To use the trimmer in 9300, you must remove the rotating head and put it on. You can do so by gently tugging the heads upward.
Remington uses a detailed pop-up trimmer, which you'll find on the side of the shaver. It is built for some precise detailing and sideburns.
Note: you have to be a little careful and use it gently; otherwise, you may break it.
One thing to keep in mind is that both of these trimmers are not to replace your everyday beard or body trimmer.
So if you are looking for dedicated men's electric trimmers for your beard or pubic hairs, You can check our complete guide on the best electric trimmers here:
Battery:
A Li-ion battery powers Norelco. The battery takes about an hour to charge fully. On a single charge, it will give you 50 minutes of work. If you use a power boost, it will only take 5 minutes for a single shave. So, you can shave 10-12 times on a single charge. ( Philips claims 17 shaves on a single charge.) You can use it with a cord or cordless for your convenience.
Remington also uses a Li-ion battery for its F5 5800. It takes about two hours to charge fully. It can provide you with up to 60 minutes of shaving time.
Washability/ cleaning:
Cleaning or washing your shaver can be very messy. Thick curly hairs on your beard or tiny little hairs from your mustache or neck can be stuck in the shaving heads. Therefore, giving your shaver a good cleaning or rinse can extend its life.
There is a SmartClean shaving dock included with the 9300. While you can clean your shaver without it, the dock makes the process much easier.
The SmartClean Shaver has a built-in dock that charges, cleans, lubricates, and dries the shaver without any effort on the user's part. The SmartClean system uses disposable cartridges. ( There are only three included in the box. Once used, you have to buy them from the retailer of Philips.) unlike other brands such as Braun, or Panasonic, the cleaning cartridge is Alcohol-free.
A hidden compartment in the base of the SmartClean dock can be found by pressing a button on the side of the device. Here is where you insert the cleaning cartridge. Just remove the metal seal from the cleaning cartridge's top to get started, and your shaver is ready for a deep clean process. Setting up your dock before loading the cleaning cartridge is crucial.
When a cleaning cartridge is in place, and the dock is moved, the cleaning solution may leak all over the place. You must plug in the power adapter to clean your Norelco shaver in the dock.
The charging, cleaning, lubricating, and drying process takes about four hours. Yes! You heard right, four hours. You can track all the processes with the advanced multi-display indicators on the dock.
The F5 5800 shaver from Remington is easy to wash. Just put the heads off with a slight pull and rinse it with running water. Whoa! It was that easy. By the way, it also has a cleaning brush, so if you don't want to rinse it, you can clean it with the help of a brush.
Durability:
Electric shavers are not something you want to buy too often. You don't want your 50$ or 100$ shaver to break up in pieces in just a few shaves. So durability is one of the critical elements when buying a shaver.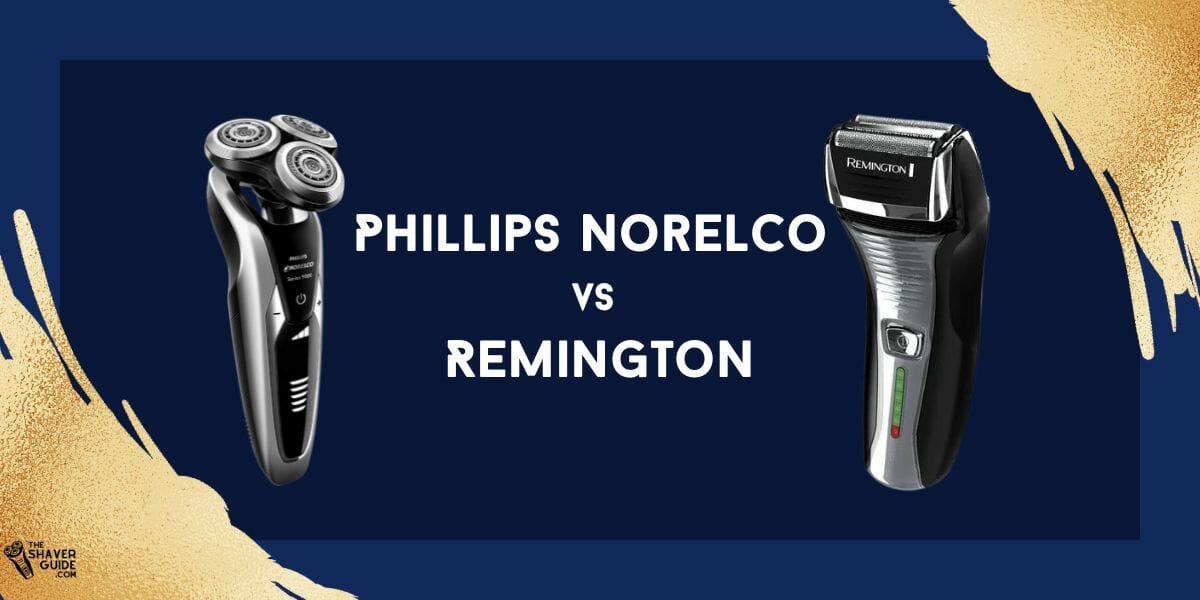 When it comes to durability, Philips is a household name in the world. The 9300 comes with a full two-year warranty. They are designed to survive for at least two years. So you don't have to worry about your shaver for the next couple of years.
This is similar to F5 5800; it also has a two-year limited warranty. So you can hope for a durable shaver to give you two years of service.
Performance:
Both electric razors belong to different types of shavers so both has different performance. Remington makes both type of shaver rotary and foil but Philips Norelco only makes rotary shavers and pioneers of rotary shavers. This is a comparison of Foil vs Rotary electric shavers.
Being one of the most advanced wet & dry electric shavers from Philips, Norelco gives you a closer, smooth shave. Because it has three rotating heads, it works better than most of its competitors. Its v-track precision blades prevent cuts and irritation. However, you can feel a slight irritation around your neck.
You can use it both wet and dry. But for better results, use a pre-shaver. It's fast enough to get the job done in only five minutes. So if you are running out of time, you have the privilege to use its fast speed and make the most out of your time. Choose between regular or sensitive to create a shaving experience that best suits your skin. If you're in a hurry, select the fast setting to save some time.
Remington F5 5800 does the job perfectly. It cuts the hairs very close and smoothly. You can feel the smoothness on your skin after using it. The shaver doesn't irritate the skin. The stainless steel blades stay sharp for a more extended period. It works well, both wet and dry. The pivoting head makes it easy to shave contour areas under the chin and neck. The shaver Doesn't make much sound. Keep hairs intact instead of letting them fall all over the ground.
Philips Norelco 9300 Pros and Cons
Pros
Incredible close-shave cleaning takes 4 hours
Cuts hairs in all directions replacing heads are costly
Amazing build quality
Cons
Replacing heads are costly
Its an expensive choice
Remington F5 5800 Pros and Cons
Pros
Impressive battery life
Doesn't irritate the skin
High performance with less price
Trimmer works well
Cons
Takes time to charge
Its an expensive choice
Conclusion:
If you are a fan of rotary head shavers, there's no better choice than Norelco 9300. The rotary head shavers perform differently than foil shavers. They grasp and remove hair using a floating head, which is comfortable for some people. Norelco's skin-safe technology prevents irritation on your skin. With a cleaning and maintenance dock, you don't have to worry about your shaver's health and durability.
The Remington F5 5800 outperforms any of its competitors at under 50$ price. The Remington gives you close shaves. I like the dual foil system on Remington. They do their job without cutting or nicking your skin. The ease of cleaning and maintenance put it ahead of many high-price shavers.
Our verdict on Remington vs Norelco:
Hmm! After a long, hectic journey, it's time for the winner. But unfortunately, there can't be a black-and-white answer.
Both products have their pros and cons. They do their job well. If you want to switch from foil to rotary shaver, there's no better choice than Norelco 9300. And if you are fed up with using high-priced rotary head shavers, then Remington F5 5800 is the product to look at.
We hope we've cleared your mind and can answer your queries satisfactorily. If you think we left something or want to know about electric shavers, pubic hair trimmers, and hair removal creams, write a comment below and let us know.