So you are done with wearing hairs on your head? And want to go bald now? Well, that's not a wrong decision at all.
According to a study conducted at the University of Pennsylvania, bald men are perceived as more attractive, masculine, intelligent, and confident.
The question here is how to shave the head closely. Because shaving the head is pretty different from shaving beards or pubic hairs.
For that purpose, you'll need a steadfast head shaver built to meet all your head shaving requirements. When it comes to dedicated head shavers, there are few better choices than Remington's ultimate series RX5 head shaver.
In the following few lines, I'll share my experience using it and let you know if this is a suitable electric razor for head shave for you.
So, keep reading to find out more.
Remington is a leader in the field of shavers and trimmers. When you have the Remington RX5, you have a product that gives you a close shave, is easy to clean and maintain, and is also very comfortable to hold and use. If you are in the market for a good shaver, you cannot go wrong with this Remington product.
Let's check out all the details of this shaver going with the design first.
The RX5 is known as the Ultimate head shaver in EU and AUS, and balder pro head rotary shaver in US and CANADA. Strange selling techniques, but it's good as long as it works.
Design
Unusual design from modern electric shavers, the whole shaver will fit in your hand. The device is exceptionally comfortable and easy to hold and operate on the skull, front, and back. Despite its simplicity, it does not have any fancy features. As far as the quality is concerned, it feels solid.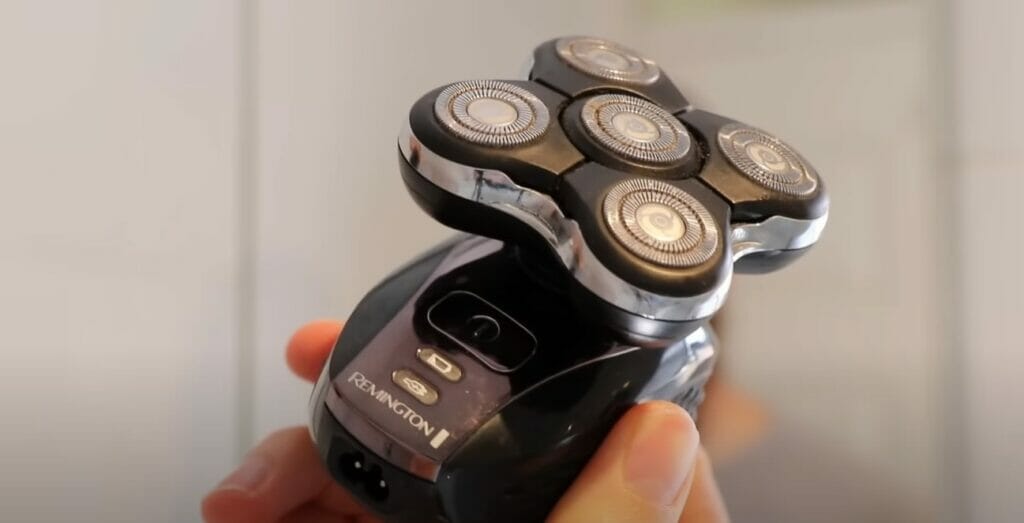 The shaver's build quality appears robust enough to withstand some wear and tear. You'll find an on-off button, charging, and battery indicators on the front side, enough to let you use your shaver efficiently. On the sides, you'll find rubber grips, which are handy in holding the shaver.
Blades /Heads
There are five dual-track cutting heads on the Rx5 shaver. They are designed to shave quickly and as closely as possible. Remington claims 0.2 mm closeness. Well, our testing wasn't as close as the claim, but it still did an outstanding job. Going circular and linear, you can cover more than 60% of the area. Thanks to the Flexing Neck and Blades, You can move over your skin with great comfort and ease, which also adapts perfectly to the contours of your head.
After a month of use, the blades are still sharp and show no symptoms of weakening, which is impressive.
You can clip off and on the blades for cleaning purposes. And not to forget, always store it with the head cover on it because the thin metal coating above the edges is easily damaged.
With or without a cord?
You'll never want wire running around your neck while trying to shave your head from behind. Thanks to its built-in battery, Just like most electric shavers on the market today, you can use the RX5 cordlessly.
Battery
It's a rechargeable battery in RX5 and takes two hours to charge fully. But, when you first use it, you may need to set it for at least 3-4 hours until it is fully charged. It will give you around 50 minutes of run time. Battery performance is decent. Yet, when compared to other electric shavers of this price range, it feels it should have been a little more robust. Most rechargeable batteries start to lose charge, which will eventually be the situation with the battery in this shaver. They are not designed to survive forever.
There are LED indicators on the body that show you when the battery is low or when it's charging.
Wet and dry use
This Remington shaver is 100 percent waterproof so that you can use it both in and out of the shower. Or, you can use shaving foam, soap, or balm with it.
Warranty
Rx5 comes with a two years warranty. But if the buyer registers the product online within 28 days of the buy, the warranty period extends to 3 years. Buyers also enjoy a 100-day money-back guarantee when the product is registered online.
Detail Trimmer
A pop-up detail trimmer is attached to the shaver. It can be used for detailing sideburns and other leftover hairs. As it is not a dedicated trimmer, it can not be used for detail trimming of the beard or pubic hairs. For this purpose, you'll have to find a trimmer built for shaving or other body hairs like Philips OneBlade or Braun XT5.
What's in the box?
In the name of accessories, the buyer will have a cleaning brush to help you clean the shaver and a small travel pouch. The travel pouch is crucial if you go outside a lot. It keeps your shaver head, and blades protected and extends the performance. You can also use the clip's guard to protect the edges better. And a charger for charging your battery.
Cleaning:
Cleaning the RX5 is effortless With the simple clip-on and off-blade top. Use the brush to brush out hair that is collected by a hair pocket, or take off the blades and wash the interior parts—using shaving cream might must you to clean the inner part more depending on the type of cream or soap you use.
Is it pricey?
Although it's not cheap, it's not overpriced either. If you're looking for a decent head shaver at an affordable price, this is a good choice.
What about the performance?
After using it for quite some time now, I can say that you can easily shave your head within two minutes, as advertised by Remington, but only if you are shaving daily or have hair not more than 2mm long.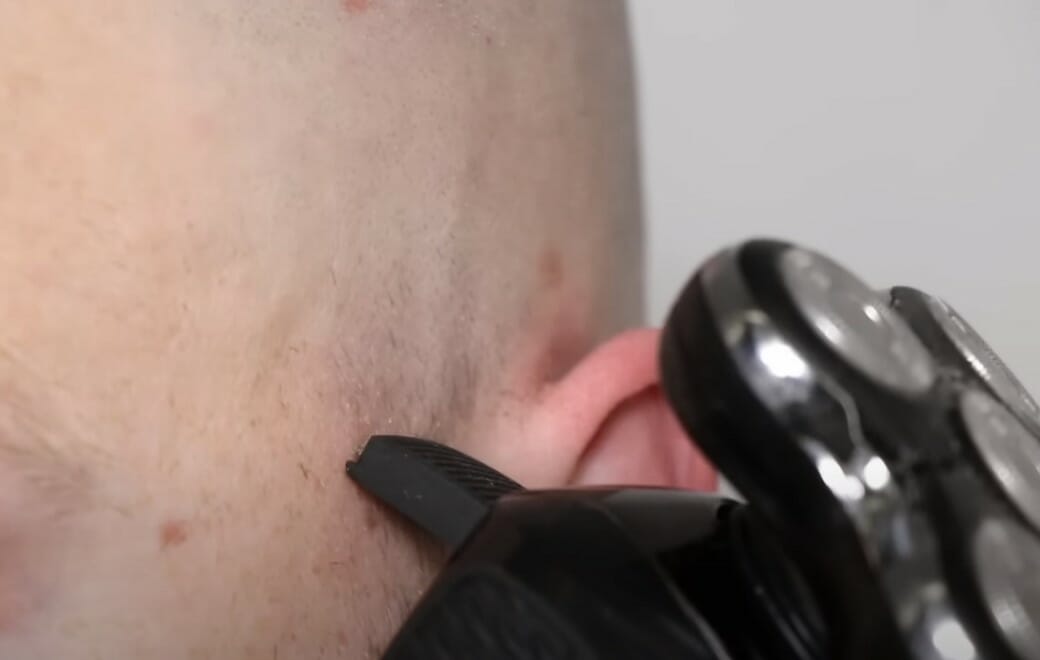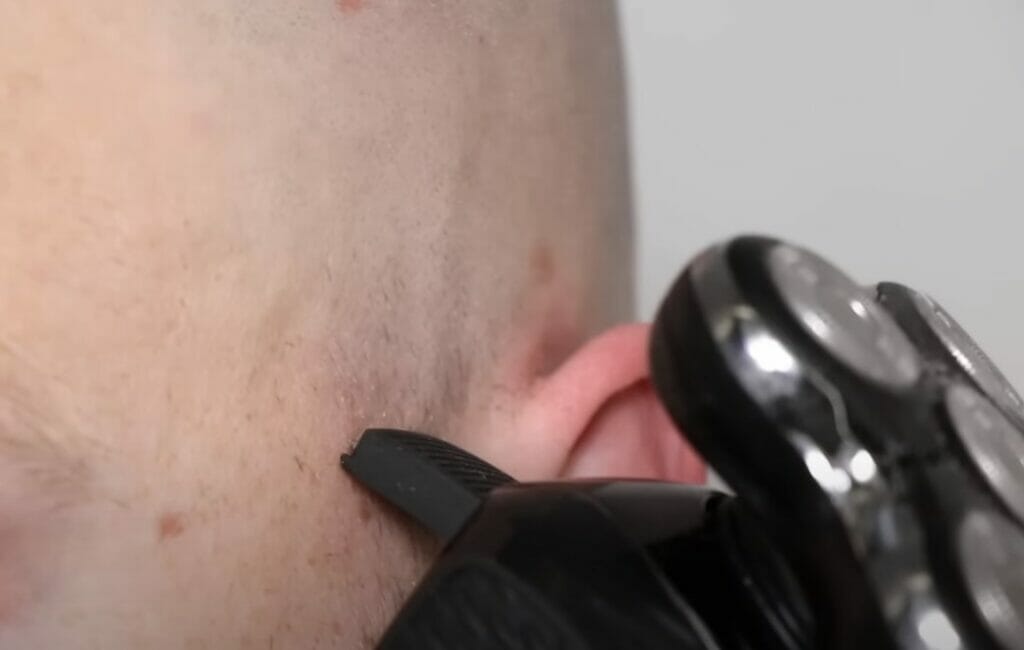 The motor feels like stopping when you use it on 3-4 days older hairs. It is quick, and you may use it whenever and wherever you want to shave your head. It usually takes 5-7 minutes to shave hair, depending on the size of the hair.
You'll notice some zebra stripes when going back and forward or circular because of the gaps on those five blades. So, you have to move the shaver a few times to get rid of all the hair. Yet, it is advisable not to push too hard, as this may cause skin redness. For shaving the sides and back of the head smoothly, you have to go there several times.
As expected, When used on facial hair, it didn't perform well because it is not made for thicker or curly beard hair.
It was fun to use both wet and dry. Dry use is no doubt the easier way to shave and clean as well.
Using cream will sometimes make it messy and leave you some work when cleaning the shaver, as the oily creams and bubbles stick to the blades and are hard to remove. In the end, it gave an excellent close shave but, as usual, not as close as the razor.
Besides, you can settle for this over the protection that electric shavers give over naked blade razors. I had to take a particular focus on the ear area to remove any remaining hairs.
A pop-up trimmer is a good option for this purpose.
Talking about ease of use, even for a novice user, operating the Remington RX5 is extremely easy and not challenging at all.
Pros
Cons:
Struggles a bit with longer hairs
can't use it while charging
Conclusion:
The bottom line is, The [amazon link="B08FNFCPNL" title="Remington RX5" /] is an excellent choice for anyone who wants a quick and close head shave with ease. It is an affordable shaver that delivers a quality result. The only drawback is that it may not be powerful enough for a few people with coarse hair who don't like to shave their heads daily. But for the average user, this shaver will provide a smooth and close shave. Here's a quick rundown of the pros and cons of the Remington RX5 rotary shaver.
FAQs:
Can you use a Remington RX5 in the shower?
Yes, you can. As it is entirely waterproof, using it wet or dry won't create any problems.
How do you clean a Remington RX5?
As the shaver is washable, you clean it by just popping the head out and rinsing it under running warm water. It would be best if you cleaned the shaver thoroughly after using it with shaving creams or gels to avoid the gel from drying and jamming the blades.
Is the Remington RX5 waterproof?
Yes, the RX5 is waterproof.
Can I use Remington RX5 on my face?
It is not recommended to use on the face. It is a dedicated head shaver only meant for head hairs that are less than 2mm long.
Which head shaver gives the closest cut?
The balder pro, aka RX5 from Remington, is undoubtedly the closest shaver with 0.2mm. It is a massive shaving device equipped with five rotary cutters that can fit the head's contour and an ergonomic handle.
Is it better to use an electric razor before or after a shower?
If you shave with an electric razor, the ideal time is before you bathe. Electric razors are significantly more efficient on dry skin than on wet skin.