There are many different ways to get a clean, well-groomed look. One popular method is using a trimmer for lineups. If you're like most men, you take pride in your appearance. And if you're looking for the best way to keep your lineup looking sharp, a trimmer is the answer.
But with so many options on the market, how do you choose the right one? Not all trimmers are created equal, however, so it's important to select the right one for the job. In this post, we'll help make the decision easy by recommending our top pick for men's trimmers for lineups. Keep reading to learn more!
Note: This article was written with the assistance of a professional barber.
Our TOP 3 Recommendations:
Read More: Best Electric Shavers For Black Men
Top 6 Best Trimmer for Lineups
BaBylissPRO Barberology Outlining-Trimmer
I recently got my hands on the BaBylissPRO BLACKFX Metal Collection trimmer, and let me tell you, it's a game-changer.
Straight out of the box, the BLACKFX trimmer exudes quality. Its all-metal construction gives it a solid, professional feel.
It is ergonomically shaped and has an easy-to-use slider on the side of the trimmer that controls hair length: from 2mm to 15mm. It's well-balanced and comfortable to hold, thanks to the knurled barbell grip. As I examined the trimmer closely, I couldn't help but appreciate the exposed T-blade design that offers a 360-degree view, allowing me to create precise lines with ease.
I put this trimmer through its paces and it didn't disappoint. The high-torque, Italian-designed engine delivers powerful performance, effortlessly gliding through various hair types. I particularly noticed its effectiveness on thick, coarse hair, leaving no room for stray strands. However, it's worth noting that with super fine hair, the blades can occasionally skip, so a thorough pass is necessary for a flawless cut.
The Ultra-Thin T Blade is made of stainless steel and titanium which means it's strong and long-lasting. It also has a DLC (Diamond-Like Carbon) coating which makes it resistant to wear and tear.
Cleaning and maintaining the BLACKFX trimmer is a breeze. The removable blade makes it easy to clean out any stray hairs, ensuring consistent performance. Regular oiling keeps it in top shape, and I appreciate the attention to detail in its design for hassle-free maintenance.
The trimmer is cordless and takes 45 minutes to charge, but lasts for an hour of continuous use. When it's fully charged you can get 90 minutes of run time out of this trimmer before you need to plug it in again.
In my professional opinion, the BaBylissPRO BLACKFX Metal Trimmer is among the best trimmers for lineups. Its precision, power, and comfortable grip make it a top choice for barbers and stylists who demand perfection. While it excels in most aspects, it may require extra attention with super fine hair.
If you're looking to upgrade your lineup game and add a reliable, professional-grade trimmer to your toolkit, the BLACKFX is a worthy investment. It's a testament to BaBylissPRO's commitment to quality and innovation in the grooming industry.
Remember, your choice of trimmer speaks volumes about your commitment to excellence in your craft. The BLACKFX Metal Collection Trimmer certainly does that for me.
What I Like About It
The trimmer's ability to provide professional-grade results is impressive. It effortlessly delivers defined edges and outlines, making it an essential tool for achieving a polished look. Whether you're maintaining a beard, sculpting a fade, or perfecting the hairline, the BaBylissPRO BLACKFX delivers consistent and precise results every time.
Wahl Professional Lithium-Ion Cordless Detailer (#8171)
The Wahl Pro 5-Star Detailer is a professional-grade appliance that can be used for mustache and sideburn lineups, as well as any other facial hair you might have. It's easy to use, powerful, lightweight, and comfortable enough to hold in your hands all day long.
I've been using the Wahl Cordless Detailer Li for a couple of months now, and I must say it performs admirably. Out of the box, it provided a close cut, but I fine-tuned it to the lowest setting using the provided tool.
Adjusting the blade wasn't the easiest task, as the instructions were a bit convoluted, but once set, it delivered an impressively close shave. Almost too close, as it can lead to some razor burn on sensitive skin. I primarily use it for shaving my head and lining up my face, where it excels. However, it's a tad too aggressive for the neck area.
The Wahl Professional 5-Star Series Detailer is a powerful, yet lightweight trimmer that is perfect for precision lineups and other delicate trimming jobs.
The Wahl Cordless Detailer Li feels great in my hand, and it exudes quality. It's powerful and well-constructed. Wahl has had a solid reputation for decades, and this trimmer lives up to it. The only drawback I've noticed is that it could benefit from a grip pad to prevent it from slipping out of your hand, especially when your hands get a bit sweaty during a busy day.
The Wahl Professional 5-Star Series Detailer is one of the best clipper for lineups. The trimmer itself is very lightweight and comfortable to hold, and it comes with a variety of different trimming guides (1/16″ – 3/16″) and other attachments that make it perfect for precision grooming.
This trimmer boasts a lithium-ion battery that provides 100 minutes of cordless runtime from a 45-minute charge. In my ten days of using it daily, I haven't needed to recharge it after the initial charge. That's impressive for a professional trimmer, and it ensures I can rely on it throughout the workday.
In conclusion, the Wahl Professional 5-Star Series Cordless Detailer Li is a solid choice for professionals seeking precision and close trimming. It may have some minor drawbacks, but its performance and build quality make up for it. If you're looking for a reliable lineup trimmer, this one is worth considering.
What I Like About It
The standout feature of the Wahl Cordless Detailer Li is its ability to deliver an extremely close and precise trim, making it an invaluable tool for professionals who demand excellence in their grooming work.
Andis 74000 Professional Cordless T-Outliner
I've tried my fair share of trimmers over the years. When I heard about the Andis 74000 Professional Cordless T-Outliner, I couldn't resist putting it to the test. After all, it boasts a heavy-duty motor, cordless convenience, and deep-tooth carbon steel blades – all the ingredients that make it a contender in the realm of the best trimmers for lineups.
Upon my first encounter with the Andis 74000, I was impressed by its sharpness. This trimmer slices through hair with precision and finesse, leaving behind crisp lines that are second to none. The deep-tooth carbon steel blades are a game-changer, feeding more hair while still delivering clean cuts. I decided to zero-gap the blades, and the results were jaw-dropping. The lines it created were so sharp that I could hardly believe it.
The cordless feature is a game-changer. It provides the flexibility to move around without being tethered to an outlet, making it perfect for both professional use in the salon and personal grooming at home. With up to 100 minutes of runtime on a single one-hour charge, it's reliable enough to get through a busy day at the salon.
The Andis 74000 feels solid and well-built in hand. It's compact, lightweight, and easy to maneuver, which is crucial when you're working on intricate details. However, I did notice a slight issue with the on/off switch after a few months of use. It became a bit finicky, requiring some fiddling to find the sweet spot. It's not a deal-breaker, but it's worth mentioning.
In conclusion, the Andis 74000 Professional Cordless T-Outliner is a formidable lineup trimmer that delivers professional-grade precision. Its sharpness and deep-tooth carbon steel blades make it stand out in the market. However, there are some concerns about long-term durability, so it might not be the best choice if you're looking for a trimmer that will last for years without issues. Overall, I'm happy with the results I've achieved using this trimmer, but I'll keep an eye on its performance as time goes on.
What I Like About It
The Andis 74000 Professional Cordless T-Outliner offers outstanding precision and cordless convenience but has some durability concerns and a higher price point. Whether it's the right choice for you depends on your specific grooming needs and budget.
Andis 04710 Professional T-Outliner
Andis Professional T-Outliner Beard/Hair Trimmer is a great option for lining up your beard, lineups, or sideburns. It's also phenomenal at keeping goatees and mustaches neat and tidy.
The Andis Professional T-blade trimmer cuts hair with remarkable accuracy. Because of this, it can be used to trim tight spots without gouging or pulling. The blade is also very sharp, so it can easily trim through coarse hair without causing any discomfort.
The body of the trimmer is designed with ergonomics in mind. It has a soft grip that makes it comfortable to hold for extended periods, and it's lightweight so you can take it with you wherever you need to. On the side of this professional trimmer, there is a large switch that you push forward to turn it on, then back again to turn it off.
The Andis Professional T-Outliner has a powerful magnetic motor so it runs smoothly without causing irritation or heat build-up. This trimmer is perfect for anyone who wants a precise trim with no fuss.
With the Andis Trimmer, you get a professional trimmer that feels as good as it looks. The power is remarkable and the blades last forever. It will cut through anything from hard to soft with ease. you can use this to edge, detail, and even do some design work. It's also perfect for lining up sideburns and mustaches.
The Andis Professional T-Outliner is best for lineups, fade haircuts, and beard sculpting. It is one of the best lineup trimmer for barbers because of its power and cord many barbers do not like to sit and wait for a trimmer to charge. The T blade is great especially when need to get around the ears or into tight areas of the face like nose and mouth crevices. The trimmer is lightweight so it is perfect for hands. You don't have to worry about it slipping out of hand while trimming. It also comes with an 8-foot cord which gives me plenty of room to work.
What I Like About It
The Andis Professional T-Outliner is an all-around excellent trimmer for lineups and fades. If you are looking for a professional quality trimmer that can do it all, check this one out. It's well worth the investment for professional barbers and stylists.
Renpho Cordless T-blade Trimmer for Men
The Renpho Electric Hair Clipper is a great choice for those who are looking for an affordable lineup trimmer that can handle all types of hair. It also comes with 3 different guide combs, so you can easily find the right length for your beard or hair.
The Renpho trimmer features a stainless steel T-shaped blade that delivers super-smooth and precise cuts, making it one of the best trimmers for lineups that I've used. The powerful high-speed motor ensures maximum efficiency and sharp performance. Whether I'm trimming beards, necklines, or even handling thick hair for intricate hairstyles, this trimmer has consistently delivered outstanding results.
The Renpho Electric Hair Clipper also comes with a powerful 4-speed motor (5500, 6000, 6500, and 7000rpm), allowing you to trim hair quickly and easily. Plus, it has a stainless steel blade that is precision-crafted to provide a close trim.
One of the standout features of this trimmer is its long-lasting lithium battery. After a single charge, it provides up to a whopping 270 minutes of runtime! This feature makes it ideal for busy days in the salon and perfect for travel, thanks to its global voltage support.
This all-in-one hair cutter is your best choice for your wedding, party, date, etc. With the LED display screen, you can see how much battery power and how fast the motor is working at any time.
I appreciate the low noise operation of the Renpho trimmer, which runs at just around 50dB.
The trimmer also has a comfortable ergonomic design that is easy to hold and maneuver. It's also very quiet, so you can trim without waking up the whole house.
The trimmer comes with 6 different guide combs, allowing me to precisely control the length. Whether I want a close 0.15mm shave or a longer trim, these guide combs make it easy to achieve the desired look. Plus, they can be neatly stored in the provided bag for convenience.
One notable drawback of the Renpho Cordless T-blade Trimmer for Men is its durability. Over time, some users, including myself, have experienced issues with the trimmer breaking, which is a significant concern. While it performs well in terms of cutting and battery life, its long-term reliability leaves something to be desired.
The Renpho trimmer is an excellent choice for anyone looking for a powerful and precise trimmer. The stainless steel blade provides a clean cut every time, and the adjustable zoom wheel lets you get the exact length you want. Plus, the ergonomic design makes it easy and comfortable to use.
If you're looking for an affordable trimmer for lineups that can handle all types of hair, the Renpho Electric Hair Clipper is a great option.
What I like about it
The Renpho Cordless T-blade Trimmer for Men offers precision and long battery life but is marred by durability concerns and minor build quality issues. Considering its affordability, it can still be a suitable choice for those looking for a budget-friendly lineup trimmer. However, it may not be the best option for professionals who demand long-lasting reliability from their grooming tools.
HATTEKER Hair Clipper Beard Trimmer Kit
HATTEKER Hair Clipper Beard Trimmer Kit For Men Cordless Hair Mustache Trimmer Hair Cutting Groomer Kit Precision Trimmer Waterproof USB Rechargeable 5 in 1 with 10 Attachments is designed with a rechargeable motor that delivers smooth, precise cutting. And, the HATTEKER Hair Clipper Beard Trimmer Kit For Men also comes with ten precision blades that are easy to change.
This kit is a complete package with 10 attachments for hair trimming, beard sculpting, precision detailing, body grooming, and nose hair maintenance. Plus, with 5 guide combs for different hair lengths and an adjustable precision dial for beard lengths, you have incredible flexibility in achieving the exact style you want. It's like having a full barber's toolkit at your disposal.
The USB rechargeable feature is incredibly convenient. It charges quickly, and a single charge lasts impressively long, up to 100 minutes. I've been using it for over a year, and the battery life is still going strong.
The trimmer is waterproof, making it easy to clean by rinsing under the tap. However, one downside is that there's no catchment area for the cut hairs, so cleaning up the sink afterward can be a bit messy. Regularly oiling the blades is recommended, though I've found that doing it less often than advised hasn't affected performance.
The HATTEKER Hair Clipper Beard Trimmer Kit For Men is also designed with waterproof housing that makes it easy to clean. So, if you happen to get it wet while trimming, you don't have to worry about it breaking.
One drawback I've noticed is the trimmer's tendency to occasionally snag and pull on hairs, especially for individuals with thick and curly beards. It's not a deal-breaker, but it's worth noting. Additionally, the body trimmer attachment has disconnected from the base a couple of times during use, which can be a bit frustrating.
While the trimmer itself is sleek and ergonomic, the storage unit falls short. The lack of space for oil and the need to keep two attachments on the trimmer at all times can be frustrating. It's not the most travel-friendly option, either.
In conclusion, the HATTEKER Hair Clipper Beard Trimmer Kit is a reliable choice for achieving clean lineups and versatile grooming. With a comprehensive package including 17 essential pieces, it offers even more value for your money. Despite a few minor quirks in design and usability, it offers excellent performance at a reasonable price. It's especially suitable for those with straight to medium-thick beard hair.
If you're looking for a versatile and economical trimmer that is easy to use, the HATTEKER Hair Clipper Beard Trimmer Kit For Men is the perfect choice for you. It comes with a rechargeable motor that delivers smooth, precise cutting, and the 10 attachments make it easy to create any type of lineup you want. And, the waterproof housing makes it easy to clean.
Pros:
What I like about it:
It is the best trimmer for lineups if you are short on budget. In addition to being waterproof, this trimmer is USB rechargeable as well. You can choose from a variety of combs to achieve precision trimming.
Final Thoughts:
If you need a high-quality, long-lasting electric trimmer, then the BaBylissPRO is an excellent choice. It's a bit pricy, but it's a durable machine that will outlast any cheap, low-quality trimmer. If you're short on cash, or if you need an economical lineup trimmer, then the HATTEKER Hair Clipper Beard Trimmer is a good choice. It's low-priced, but it can get the job done until you receive your BaBylissPRO.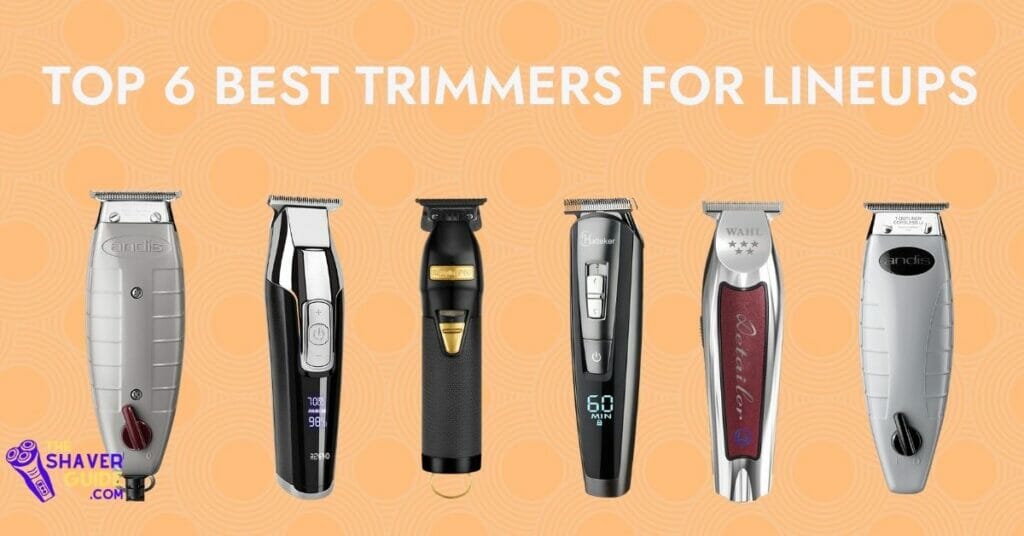 We hope you're enjoying our blog about the best clippers for lineups. We hope this information helps you find a great trimmer for your next haircut or trim. If you have any questions or comments, feel free to leave them in the comments section below. Thank you for reading and until next time.
Certainly, achieving the best lineups with these trimmers requires not only the right tools but also expert techniques. Here are some step-by-step instructions and insights based on extensive experience:
Expert Tips for Achieving the Best Lineups with Trimmers:
Preparation is Key: Before you start, ensure that skin is clean, dry, and free of any oils or lotions. This provides a smooth canvas for precise trimming.
Select the Right Trimmer: Choose the trimmer that best suits the hair type and the desired style. For fine hair, the BaBylissPRO Barberology Trimmer works well, while the Wahl Cordless Detailer Li is ideal for an ultra-close shave.
Adjust Blade Settings: Depending on the trimmer, adjust the blade setting to the desired length. For sharp, clean lines, start with a shorter setting and make adjustments as needed.
Outline the Edges: Begin by outlining the edges of the hairline, sideburns, and neckline. Use gentle, controlled strokes to create crisp, straight lines. Keep the skin taut with your free hand to ensure precision.
Use the "L" Technique: For the hairline, employ the "L" technique. Start at the center of the forehead and make a horizontal line, then move to one side and create a vertical line down the temple. Repeat on the other side. This technique ensures symmetry.
Angle Matters: Pay attention to the angle of the trimmer. Hold it at a slight angle against the skin to avoid cutting too close or causing irritation.
Master the Art of Tapering: To create a natural-looking lineup, use tapering techniques around the sideburns and neckline. Gradually fade the hair from the trimmed area to the skin for a seamless transition.
Check for Symmetry: Regularly step back and assess your work. Ensure that both sides of the lineup are symmetrical and well-balanced.
Detailing and Cleanup: After the initial lineup, go back and inspect for any stray hairs or imperfections. Use a fine-toothed comb and trim those stray hairs carefully.
Post-Trim Care: Finish the lineup with a quality, alcohol-free aftershave or soothing gel to prevent irritation and provide a clean, polished look.
Regular Maintenance: Keep your trimmers well-maintained by oiling the blades and cleaning them after each use. Sharp blades are essential for achieving clean lines.
Practice and Patience: Mastery comes with practice. Don't be discouraged by initial mistakes. The more you practice, the better your lineups will become.
Remember, achieving the best lineups with trimmers is an art that combines technical proficiency with an eye for detail. With these expert tips and techniques, you can consistently deliver impeccable lineups that leave your clients looking sharp and satisfied.
FAQs
What is the best clipper for lineups?
The best clipper for lineups is the BabylissPRO Barberology Outlining-Trimmer. This trimmer is a great choice for those who want to maintain a clean look. With this trimmer, your lines will be clean and consistent every time. The trimmer itself is also easy to hold so that you can use it for longer periods. The precision of this trimmer is also very good, so you can ensure that you won't cut too much of your hair.
What is lineup trimmer?
A lineup trimmer is a great tool for those who want a very precise cut and shave. It is a t-blade trimmer that is specifically designed for close shaves and for outlining the face. The lineup trimmer is smaller than the regular hair clipper and is made for making fine details in hair.
What do barbers use to line up beards?
Barbers typically use an electric trimmer to line up beards, though they may also use scissors or a straight razor.
Note: This article was written with the assistance of a professional barber.