The maintenance and grooming of a long beard might be difficult if you lack the necessary tools. A man with a large beard would seek the best beard trimmer for long beards. Choosing the best trimmer for your long beard can be challenging since only some are designed for long beards.
TL;DR: The best beard trimmer for long beards is Philips Norelco all-in-one MultiGroom Series 7000.
Many types of beard trimmers are available, but this article will tell you where to find the best beard trimmer long beard. Modern men need the latest technology at their fingertips to handle such tricky situations and, more importantly, avoid appearing untidy when video chatting with coworkers who work from home.
Long beards require a trimmer that can easily cut through your hair, which is different from a short beard. It is best to use a high-quality, quick trimmer rather than a cheap, ineffective one that will take a long time and not even get through all your hair.
It is also necessary to have a trimmer with many protections to experiment with different lengths without removing too much hair.
Top 8 Best Trimmers for Longest beard at a Glance
How did we Select The Best trimmers for Man?
Choosing the right trimmer for your long beard was a challenging task. However, we picked these trimmers on the following basis.
Strong Power
The heaviest beards can be tough to trim quickly, so we looked for trimmers with enough power to handle even the toughest beards.
Sharp Blades
The blades are, without a doubt, the most important part of any trimmer, let alone the long beard trimmer. No matter what power the trimmer has or how many size combs it comes with, the blades are responsible for doing the ultimate work. Thus, we carefully selected devices with sharp, strong blades. Self-sharpening blades are an added advantage.
Adaptability
Our goal was to find trimmers that could cut through thick beards quickly but could also act as shaver blades.
Rechargeable Battery
It's better to have a device that supports rechargeable batteries because a cordless device is more convenient for grooming facial hair.
The rechargeable batteries on most trimmers can last for many trims with one charge.
Essential Attachments
Our top picks come with guide combs in enough sizes to suit any beard style, plus other useful accessories, such as detail trimmers.
We selected the trimmers with all the necessary attachments required to trim the long beards, like guide combs, size settings, and other items like detail trimmers and foil shavers.
Wet & Dry use
Trimmers that can be used wet and dry are always useful and great. When trimming your beard, you never know when or where you will need it, so having a fully waterproof device would be helpful.
Philips Norelco all-in-one MultiGroom Series 7000
Our Thought:
For comfortable, precise grooming, the cordless MG7750 comes with a friendly design, an array of useful accessories, and just the right amount of power. Though it's a bit heavy, it feels comfortable in hand. This is an excellent option for anyone searching for a beard trimmer to trim his long and thick beard.
Features
Premium Stainless-steel frame
14 different guards
Three combs
2x self-sharpening blades
5 hours of run time
Blade oil
Pros
Ergonomic Design Feels great in the hand
Excellent battery
Long-lasting blades
Cons
Bad placement of the on-off button
Multigroom series 7000 from Philips is one of the best options on the market right now. Philips brings all its expertise and craftsmanship to this product.
As part of the trimmer's package, there are almost 23 items, including 14-size guards, 3 combs, blade oil, a power cord, and a carrying case. In addition, it comes with a foil shaver for a close shave, and the trimmer can also use on the neck and other sensitive areas.
The trimmer is strong enough to trim your entire body, including facial hair and a long beard.
To achieve maximum precision, Philips used DualCut technology in its 7000 series. In addition, a steel trimmer for edging and detailing is included, as is a nose trimmer for removing unwanted hairs from the nose and ears and an extra-wide hair trimmer for trimming and cutting hair faster.
The shaver is fully washable and easy to clean; just put it under the faucet. And you can do the same with all its belongings as they are fully water-resistant too.
When the rechargeable Li-ion battery is fully charged, the shaver can run for five hours, giving you ample time to groom and trim your beard. While it's a cordless trimmer, you can also use it plugged in.
Wahl Stainless Steel Lithium-ion 2.0+ Beard Trimmer
Our thoughts:
In every way, this device is simply stunning. It feels secure in the hands. We haven't found a single complaint about the Grip. It has sharp blades that trim long beards effortlessly. The accessories are very easy to attach and remove. The 6-hours of battery timing give you the flexibility you need for trimming and detailing all your body hairs. Additionally, this device is a great choice for those who travel a lot and don't have time to charge their devices.
Features
6-hours battery
4 different attachment heads
Foil head for a close shave
12 individual guide combs
Worldwide voltage 110v-220v
Pros
Powerful and Efficient
Well Made Design
Complete grooming package
Easy to clean
Durable can be used for a long time
The Wahl Lithium-ion 2.0 is the next best trimmer for long beards. With over 100 years of experience in electric hair clippers and trimmers, Wahl is one of the leading brands in the industry. Moreover, the company manufactures men's grooming and styling products that are regarded as leaders in the industry.
There is no doubt that Wahl Lithium-ion 2.0 is one of the best electric trimmers for any length of beard, not just long beards. In addition to four attachment heads, it has a wide T-blade for trimming beards, mustaches, and body hair.
Additionally, separate trimmers are provided for trimming the ears and nose, and the foil-shaver head is also available for a close shave.
As its name implies, Wahl's Lithium-ion battery uses lithium-ion technology and can deliver an incredible 6 hours of run time on a single charge. So you can trim and detail your long beard effectively with that time.
The tool has 12 comb attachments, so you can customize it to fit your beard's length and style.
Its stainless steel blades are sharp and durable. In addition, the edges are designed for trimming and detailing longer beards without pulling or tugging the hair.
Panasonic Cordless Men's Beard Trimmer
Our Thoughts:
It's one of the best trimmers. We found out that it's worth buying. It's packed with Japanese tech blades that easily cut and trim long beard hairs without pulling.
Features
19 trim settings
Mustache trimmer
Snap-on comb attachments
Rubberized ergonomic Grip
AC charger
Wet & dry
Pros
Easy to charge & use
Powerful Motor
Fine length adjustments
Excellent battery life
Panasonic's Cordless Men's Beard Trimmer is among the best beard trimmers available today. This nice all-in-one trimmer uses hypoallergenic stainless steel blades with 45-degree angles that might help you a lot in trimming your beard quickly and efficiently.
It has many more great features you should check out to see if this is the beard trimmer. In addition, the Panasonic multigroom won the 2015 men's health grooming award, which is awesome.
With a futuristic design, this one fits very comfortably in hand. It uses the same blade technology to create strong and sharp swords in Japan. These blades are precision-ground to an acute 45 degrees, combining the angular precision for an amazing trimming experience.
These blades trim hairs in a single pass without tagging in any way. In addition, the blades on the Panasonic multigroom are extremely durable, and they're made of hypoallergenic stainless steel, which reduces the risk of skin irritation.
This trimmer comes with three adjustable comb attachments, making it ideal for trimming your mustache, beard, and body. There are 39 adjustable settings on the Panasonic multigroom trimmer. It is adjusted with a rotary dial at the top of the body. It can give you the desired trim without any problems. Each combing head is well-rounded for smooth gliding over your skin and to avoid tagging.
You can get the perfect trim every time with its ni_mh battery, which can last up to 50 minutes. In addition, the product is fully waterproof, so you should clean it with water after using it.
Philips Norelco Beard Trimmer Series 5000
Our thoughts:
Those looking for a trimmer that is within range and offers excellent performance should consider the Norelco 5000 series. It's an all-in-one trimmer. Its trimming and grooming tools, body guards, beard and stubble adjustable guards allows for easy adjustment of beard settings and body hair grooming. Hence, if you're looking for a lightweight trimmer with an ergonomic design and some power, this is the one for you!
Features
Self-sharpening stainless-steel blades
18 pieces for all trimming needs
Up to 3 hours run time
Washable head
Battery light
Cordless use
Alloy Steel
Ergonomic design
Pros
Long-lasting blades
Alloy Steel design
Rubberized Grip is anti-slippery
Excellent battery timing
Cons
Attachments are of poor quality
The Philips Norelco multigroom series can be used for all body hair trimming, but it is particularly useful for long beards. Your grooming needs will be met at an exceptional value with this product
This Philips Norelco Multigroom 5000 kit includes a metal trimmer, a detail metal trimmer, a nose and ear trimmer, an extra-wide hair trimmer, 6 hair trimming guards, 3 beard trimming guards, 2 stubble trimming guards, 2 body trimming guards, a storage bag, and a cleaning brush.
For its 5000 series, Philips uses stainless-steel blades that are self-sharpening, do not rust easily, and do not require blade oil. The blades use DualCut technology for maximum precision over a long period of time. Additionally, the blades are very gentle on the skin. It also has a beard comb for skin-friendly trim. This machine has a steel trimmer that creates clean, straight lines and easily trims through even the thickest hair.
In addition to preventing bending and buckling, Norelco 5000 has 13 trimming guards to ensure even trimming.
The advanced lithium-ion battery can power the trimmer for 3 hours on a 60-minute charge. You can use it corded or cordless. In addition, the trimmer has an automatic voltage stabilizer, no matter if you use it on 110v or 220v.
The heads are washable, so you can clean them easily under running water after detaching them.
Braun Beard Trimmer 7 – BT7200
Our thoughts:
This trimmer is perfect for styling and trimming long beards. Powerful, sharp blades make it a great tool. You can choose the perfect size for you from a variety of combs. In addition to the foil shaver, this device also has a detail trimmer. That adds some extra and useful benefits to this device.
Features
Ultra sharp metal blades
Contour edging and detail trimmer
1-20mm combs
A Mini Foil Shaver
A Detail Trimmer
Charge time: 1 hour
Battery timing: 100 minutes
Washable
Pros
High-quality precision blades
Lots of length options
Excellent battery life
Easy to clean
An ideal size
Are you worried about how to tackle your long beard or to do a super close shave? Then this Braun model is perfectly built for you.
The Braun Beard Trimmer 7 is an excellent deal and is one of the top beard trimmers on this list. In addition to being convenient, it is portable as well. Our testing discovered that the sturdy blades were durable and provided a close shave.
It comes packed with a trimmer, 2 combs; 1-10mm and 11-20mm, a mini foil shaver, a detail trimmer, a cleaning brush, a soft bag, and a smart plug. A Gillette Fusion5 ProGlide razor is also included in the packaging.
Its metal blades are powerful and cut through facial hairs of any length. In addition, you can use adjustable guards ranging from 1-20mm to easily place the blades at a distance that best suits you.
For those inclined to edge and detail their hair, a mini foil shaver and a detail trimmer will be sufficient tools. They do a pretty good job.
A Lithium-ion battery is used in this trimmer, as in most other trimmers, and it takes about one hour for the battery to charge fully. That will give you enough time to run the trimmer for 100 minutes, providing you enough time to cover all your needs.
In addition to being completely washable, you can clean the trimmer using a cleaning brush or under running water if that is more convenient.
Wahl peanut 8655
Our thoughts:
Any man looking to trim and style his beard at home should look no further than this Wahl Peanut trimmer. Although it doesn't have the features of some high-end devices like Norelco or Panasonic, it has the efficiency, durability, and power to meet all your requirements.
Features
4 in long
It weighs 4 ounces only
7-foot chemical-resistant power cord
Snap-on blade
Washable head
Corded
Pros
Professional trimming
Durable
Cheaper yet powerful
Easy to clean
Durable can be used for a long time
Small size, and big performance, is what can be said about the Wahl Peanut 8655. In such a small size, it delivers truly outstanding performance. Because this device is built specifically for professionals, if you want professional-quality beard trimming at home, this device is perfect for you.
One thing to remember is that it is a corded trimmer and cannot be used cordlessly. Consequently, if you don't like using trimmers with wires, you may not like it.
Its cutting power, closeness, and durability make it better than any cordless trimmer in this price range (just over $50).
For precise trimming of your beard and other hairs, it comes with 4 attachment combs (1/8″ – 1/2″). In addition, it has a detachable head that can be easily cleaned and maintained.
It is shaped like a peanut. As a result, it feels extremely comfortable in your hands, as if you could use it all day long. Even though it is smaller and lighter than most trimmers on this list, it is powerful enough to handle any task. This small device works amazingly well regardless of how long, thick, or thin your beard is.
Its powerful rotary motor can be used both as a clipper and a trimmer.
Remington MB4700 Smart Beard Trimmer
Our thoughts:
Remington is among the brands constantly pushing the boundaries; this intelligent device is one example. With sharp blades, adjustable length settings, and power, it has almost everything we look for in a long beard trimmer. Stylish and ergonomic, it has a touch screen and ergonomic design. This Remington device will be ideal if you are looking for a highly intelligent machine that caters to all your facial hair trimming and styling needs.
Features
Memory settings
Up to 175 length settings
Digital Touch Screen
Captures 0.5 to 15mm hair
Fully washable
Pros
Blades cut well and stay sharp
Easy to use
For whole body
Long-lasting battery
Cons
There is no self-sharpening blade
The touch screen is a bit sensitive
Remington's MB4700 smart beard trimmer is truly a 'smart' trimmer.
This is a very sturdy, well-constructed device with several excellent features!
It comes with Memory Settings and a Digital Touch Screen.
The digital display shows length adjustments in .1mm intervals, the latest advancement in beard trimmers.
You can achieve your desired look with this precision beard trimmer that captures hair lengths of 0.5-15mm.
Using smart technology, it remembers your last trimming length for you! So you can adjust it only sometimes you trim your beard.
It also has a motorized comb with a digital display that allows you to change 1/10 mm length settings to 175 length settings.
Its automated turbo mode recognizes your beard type and adjusts the cutting speed accordingly. This beard trimmer boasts 40% more power because of the turbo power increase.
This Remington device has an ergonomic design that lets you use it the way you want. The good thing is that it can be used both cordless or corded.
It uses a lithium-ion battery that powers the trimmer for about 50 minutes.
The trimmer is fully washable, so you don't have to worry about cleaning or maintaining it.
Hatter Men's Hair Clipper and Beard Trimmer
Our thoughts:
This kit from Hatteker can be a wonderful option for anyone looking for the right grooming kit. It has all the right attachments you need. There are a variety of lengths to choose from with the size combs. The battery timing is nice. If you like to use the trimmer wet, its fully washable capabilities make it a perfect choice.
Features
Full-size steel trimmer
13 attachments
Self-sharpening steel blades
Whole body washable
60 minutes of battery time
LCD Display
Pros
Complete grooming attachments/li>
Ear & nose trimmers work excellent
Good battery life
Easy to clean
Cordless use
Hatter is another big name in men's grooming and styling products. This kit from Hattekar is a complete grooming kit. It includes an all-in-one trimmer with 16 pieces for beard, facial, cleaning, detailing, etc.
Blades are made of stainless steel that can make deep, precise cuts. Because the stainless steel blades can withstand heat, they won't harm or irritate your skin. In addition, you won't need to worry about replacing the blades early because they are self-sharpening and long-lasting.
It is completely waterproof, so that you can use it in or out of the shower. This Hatteker kit comes with a USB charger, so it's easy to charge it on the go. You also have the option to charge it via your Pc or Laptop.
In one charge, the shaver is expected to last 90 minutes. These are enough for your daily tasks. It can also be used while charging if you have less than 90 minutes to wait. Thanks to an automatic built-in system, you can operate the device anywhere between 110v-240v.
Conclusion:
Although maintaining and styling a long beard can be a challenge, not when you have the right equipment. And this article on the best beard trimmers for long beards will help you choose what is best suited for you. We picked those who are leaders in their categories, keeping in mind all the essentials.
The competition was fierce, and picking the best was not easy, but from our research team, the best beard trimmer for long beards is Philips Norelco all-in-one MultiGroom Series 7000. The Wahl Lithium-ion 2.0+ is the runner-up here. And if you are on a budget, Hatter Men's Hair Clipper and Beard Trimmer can be a good option. And if the budget is not an issue for you, you can go for the high-end, premium device like Braun Beard Trimmer 7 – BT7200.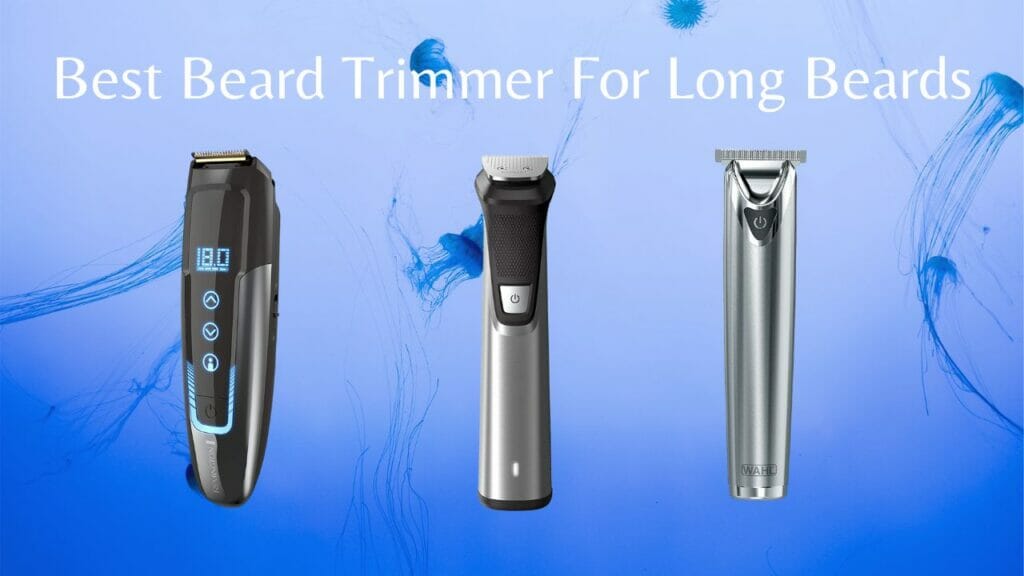 Still, you need to closely check your skin type, beard length, and how frequently you trim your beard to pick the best trimmer for your beard.
FAQ's
What is the best beard trimmer for long beards?
In our opinion, the Philips Multigroom Series 7000 is the best option for you right now. It has the power and the convenience a man with a long beard requires.
Can a Trimmer be used for a long beard?
Yes, you can. It can produce better results if used properly. Knowing what specifications a trimmer must have to trim a long beard allows you to locate the best one for you.
Are long beards more attractive?
A man's beard makes him appear more manly. According to a study, men with beards may be seen as more mature, masculine, and having a higher social status. Undoubtedly, these traits contribute to the overall impression of attractiveness.
How do I keep my beard in long shape?
Maintaining a long beard is like growing out your hair. Whether growing or completely grown, you must shape and trim the beard to keep it looking sharp. You can do this by shampooing your beard and then combing it to detangle it. Next, trim the interior and opposite sides with a long beard trimmer. Finally, clean up the outline of the sideburns, cheeks, neck area, under the jaw, and around the lips after trimming the shelf.
What length is considered a long beard?
6 inches. Most men consider a beard six inches long, although it varies from person to person. In addition, there are different lengths of long beards among people of different religions and races worldwide.
Is it healthy to have a long beard?
There are many health benefits to having a beard; the longer the beard, the more benefits there will be. A beard protects the skin from harmful UV rays, wind, chafing, and injuries caused by the sun. In cold weather, it keeps you warm. Long beards make men look more attractive. Long beards are also a trend.