So, finally, after a long break, the Panasonic Arc 6 (also known as Lamdash 6 in the Japanese market) is in our hands.
Panasonic introduces this new electric shaver after seven years. Arc 6 is the world's first and only foil shaver that has six blades. But the question is, is it worth sacrificing your old, time-tested companion- Arc 5- to this new beast?
Is it worth buying at double the price of Arc 5? What are the new features in Arc 6 that justify its exorbitant price? Let's dive into the details and see the answers.
I'll keep this comparison of Panasonic Arc 6 vs Arc 5 concise, helpful, and direct.
Nobody has times for shaving. But you also don't want hairs to grow on your face sprouting in every direction. You feel like sporting and styling a beard after 2-3 days. But things get messy when a close shave is needed, and you've stubble growth on your face from the weekend.
It requires many swipes across your face. It is a human thing to always look for a convenient way. For this, it is convenient to use a rechargeable electric shaver.
Thanks to Panasonic's Arc family, shaving and trimming have become much more manageable. Arguably they are one of the best in business. By the way, they are not cheap. Therefore, the user expects a high-class performance from them. Not just performance but the design, build quality and durability. So here we are, exploring all the features of Arc 5 and Arc 6 to see who performs better. And is it worth switching?
Panasonic Arc 6 vs Panasonic Arc 5: A Detailed Comparison
Arc 6
Panasonic Arc 6
Ergonomically shaped
The innovative lock feature is useful
6 Blades Provides Amazingly close shave
Powerful motor 80000 RPM
Arc 5
Panasonic Arc 5
5 Blades Design
Built-in Trimmer
Powerful Motor 70000 RPM
Good battery life
The Arc 6 and the Arc 5 are two of Panasonic's most popular electric shavers. They are both high-end, premium products that have a lot of similarities.
The Panasonic Arc 5 is a well-known and popular shaver. It is one of the top electric shavers on the market and has been for quite some time.
The Panasonic Arc 6, on the other hand, is a newer model that has just been released. In this section we will compare these two models to see how they stack up against one another.
Design:
Panasonic has been known for its industry-leading designs. Its design is ergonomic, sleek, and ultra-modern. The shaver is comfortable to hold, and you'll find a power button, a lock, and an LED on it. The LED- display on the shaver is a big plus, and it helps you have an eye on the battery level. How much power is left, and how long can you use it before putting it on charge again?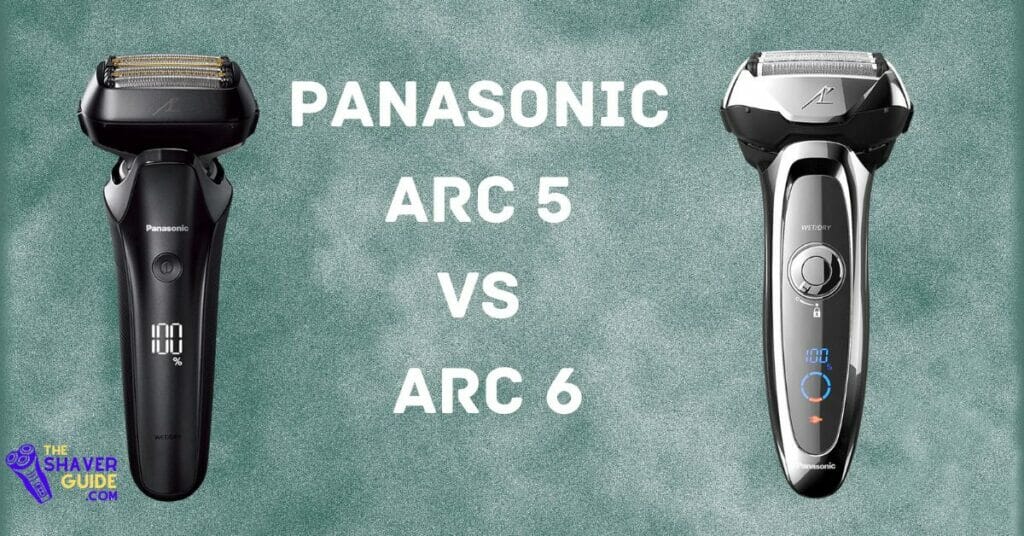 Its build quality is exceptional. It truly brings a premium feel.
Arc 6 is somewhat identical in design to Arc 5. And while it's not precisely minimalist in design, it is unquestionably more graceful and less complex than the Arc 5. You'll find a beautiful matt black color on it, and it's lightweight and doesn't feel heavy in your hands.
On the LED display of Arc 6, you'll find some convenient indicators such as battery capacity, cleaning required, charge status, foil-blade check, and switch lock.
Heads / Blades:
Any shaver's performance depends heavily on its blades.
Arc 5 uses a five blades shaving system for a close shave. They are slightly arced. (That's why called Arc 5)
And because of that, Arc 5's head is bigger than many other foil shavers. Sometimes, this can be a bit difficult, especially if you are not used to more giant heads or have just started using electric shavers.
The Panasonic five-blade foil shaver captures and lifts hairs while cutting neatly at the base, thanks to its ultra-sharp inner blades and ultra-thin outside foils.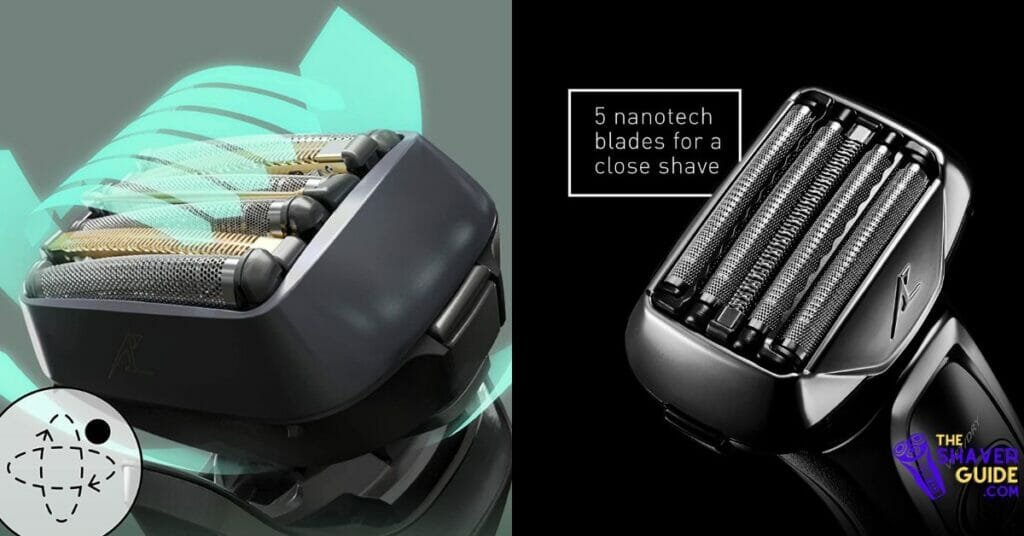 Head movement is yet another significant thing to keep in mind when going to buy an electric shaver.
For maximum comfort, the Shaver Head pivots in several directions to follow the neck, chin, and jaw contours. It moves back and forth and up and down as well.
The Arc 6 is the only shaver of its kind. It uses six blades for its shaver, more than any other shaver on the market now. These six blades, or six cutting elements, work closely to cut as much hair as possible while taking less time. They are made of hypoallergenic stainless steel, best suited for sensitive skins.
Among six elements, 4 are foils, 1,3,4 and 6, and two gold-colored trimmers 2 and 5 to lift dense and flat laying hairs, and one comfort roller. The inner blades or cutting elements, whatever you call them, are nano-sharpened to a thirty-degree angle.
The head in Arc 6 is so flexible that it can move in 10 directions, and it adapts to the contour of your face and makes shaving very easy on the chin and jawline.
Performance:
The performance of both devices was very high in our detailed assessment. Arc 5 gives you a smooth and close shave without snagging or pulling, and it works better than many other high-end brands. The flex head moves much easier on the chin, jawline, and neck area.
The precision trimmer has incredible details and edging. The 70000 cross-cuts per minute motor on the Arc 5 feels smoother going through your face and around your neck.
Arc 6, on the other hand, had high hopes, and we expected it to perform better than Arc 5 or at least match its performance.
It did pretty well. It shaved the face quickly and easily and got the closest shave possible. It also performed well on a 4-day beard with coarse stubble.
However, the shaver struggled around the neck with flat-lying and duller hairs.
It was more comfortable to shave wet than dry when comparing performance between damp and dry uses.
Smart lock:
The shaver has an intelligent lock. It turns off the power button averting any accidental operation when not in use after one minute of holding it. The power switch automatically turns on when you grasp the main body.
Linear motor:
A powerful motor powers Arc 5 with 70000 cross-cuts per minute. The number was the highest for any electric shaver when it was released.
With the introduction of Arc 6, Panasonic has taken the numbers further and powered Arc 6 with a motor that has an 80000 cross-cut per minute.
Trimmer:
The pop-up trimmer in Arc 5 works amazingly well, and it is one of the best in its category. The trimmer can be used for edging and detailing mustaches or sideburns.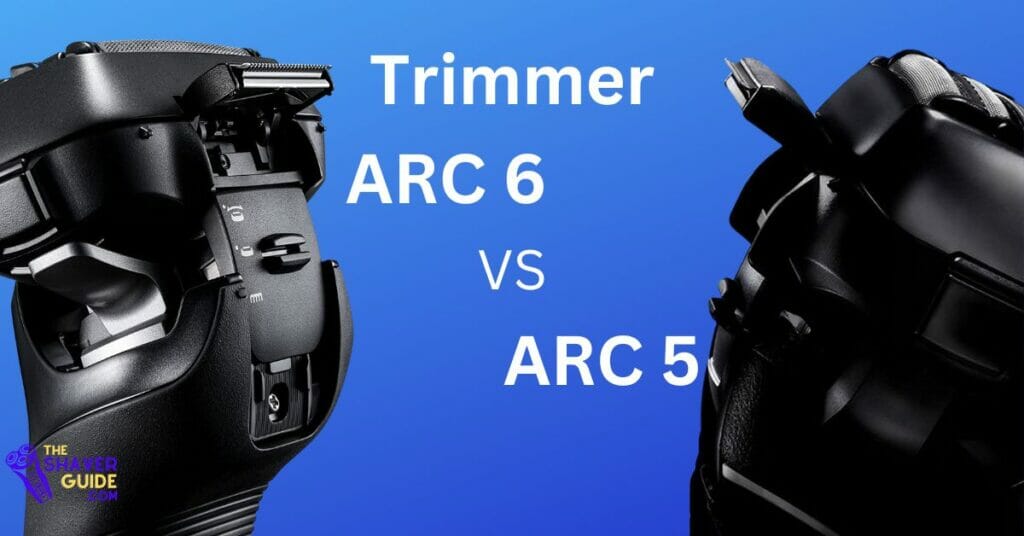 The trimmer can be pushed open using the lock-unlock button and is joined to the shaver's body.
Wet & dry use:
Arc 5 and Arc 6 shavers offer wet and dry properties and can be used in or out of the shower. Users also use them with their favorite pre-shave or foam.
Cleaning & charging station:
Arc 5 and 6 come with a cleaning and charging dock depending on the model. It cleans, charges, and lubricates the shaver. Users must plug in the cleaning detergent before placing the shaver in the station. In the US, some models like LS9A come with a cleaning station, and models like LS8A have no cleaning or charging station.
Although the cleaning & charging station is helpful in cleaning and maintaining your shaver, it is not essential. You can rinse it under running water.
Battery:
It takes the Arc 5 about an hour to fully charge its Li-ion battery, and it will give you 45 minutes of shaving, and it is merely 5 minutes less than what the Braun Series 9 shaver will produce in the same 60 minutes.
You can charge your shaver both ways by directly plugging it into the adapter or using a charging dock (if you have one with your model!)
Panasonic Arc 5 Pros and cons:
Pros
Incredible smooth performance
Closest shave possible
Built-in Trimmer
Powerful Motor 70000 RPM
Good battery life
Panasonic Arc 6 Pros And Cons
Pros
Built-in Trimmer
The innovative lock feature is useful
More comfortable than the Arc 5
6 Blades Provides Amazingly close shave
The cleaning station is helpful
Powerful motor 80000 RPM
Final Verdict: Which is Better Panasonic Arc 5 or Arc 6:
If you're trying to decide between the Panasonic Arc 5 vs Arc 6, there are a few things to consider. Regarding the closeness of the shave, Arc 5 performed just as well as Arc 6. And if you are looking for an even closer shave, you won't get it by switching to Arc 6.
Both models are great shavers, but the Arc 6 is the newer model with some slightly improved features. However, it's also more expensive. The Arc 5 may be better if you're on a budget. If you are already using Panasonic Arc 5 then I would not recommend to upgrade to Panasonic Arc 6, because I didn't feel any major difference in both electric shavers performance. If you're looking for the best shave possible and don't mind spending a little extra, the Arc 6 is probably worth the investment.
The Panasonic Arc 5 is a well-known and popular shaver. It is one of the top electric shavers on the market and has been for quite some time. The Panasonic Arc 6, on the other hand, is a newer model that has just been released.
Overall, the Panasonic Arc 6 has more advanced features than the Arc 5, including an additional blade, a faster motor, and a more advanced cleaning and charging station. However, the Arc 5 is still a high-performing shaver with a similar battery life and many of the same features. The choice between the two models ultimately depends on individual preferences and needs.