Yes, you can shave your legs with an electric razor. If you take a few precautions, you should be able to use an electric razor on your legs. If your leg hairs are long, it's best to trim your hair with a trimmer or scissors before using the razor. This will give your hair a uniform length and make the shaving smoother.
It can be hard to decide what to use when it comes to shaving your legs. You can choose to use a manual razor, an electric razor, or a cream to help you shave. If you choose to go with an electric razor, they are easy to use and can be good for your skin.
Electric razors are not as effective as manual razors and require more frequent replacements and maintenance. However, many people prefer electric razors to manual razors, since they are quicker, easier and less messy.
You will also want to make sure you have a sharp electric razor. Dull blade can pull on the skin and can cause razor burn or ingrown hairs.
The electric razors should have a pivoting head that follows the contour of your legs. That will make easier to shave legs and give clean and smooth shave.
How to Shave Your Legs With an Electric Shaver
Electric shavers have been designed with the sole purpose of making shaving a less difficult task.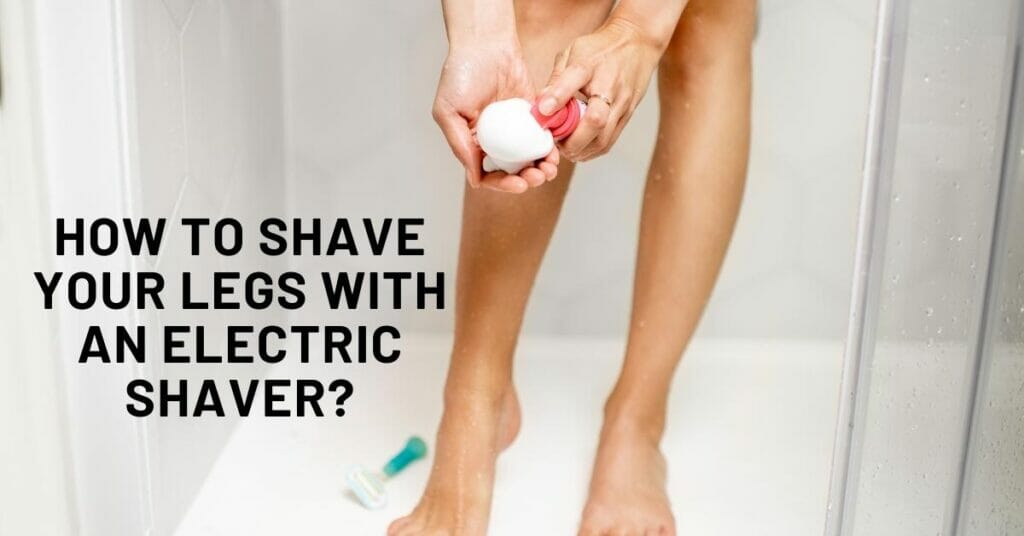 An electric shaver can be used for both legs and arms, but the method for doing this depends on the type of shaver you have
If you have never shaved your legs before, start by shaving only the areas that are easier to reach, such as your knees and ankles. The rest will come with practice. Remember to use shaving cream or moisturizing soap and warm water to make your skin more flexible.
The best time to shave is right after you shower. This will open your pores and make shaving easier.  After your shower, gently towel dry your skin. If you do not have time for a shower, gently wipe your legs with a warm towel until the excess moisture is gone. Pour a small amount of gel or foam on leg. The gel/foam will help the electric razor glide on your skin.  
If you have a foil electric shaver, You can either glide the razor up or down; it will work both ways. But against the grain of your hair, you will get a closer shave. If you pull it down, it will be more comfortable, but it will take longer to shave.
If you have a rotary electric shaver, you can use it just like you would any other rotary shaver. For best results, first use a shaving cream or gel to protect your skin from razor burn or ingrown hairs. Then, hold the shaver at a 45-degree angle. Shave in small, circular motions to ensure that the skin is well-covered. You can use the back of your hand to apply extra pressure to the shaver.
How to Shave Your Legs Without Shaving Cream?
Well, you can use hair conditioner or even body wash. Or you can use baby oil or lotion. But, the best way that I know of is to use baby powder. It's cheaper than shaving cream. It's less messy. And it works just as well.
The only thing is that you need to make sure that you only use it on really dry skin or it won't work.
Apply the conditioner to your legs before shaving and leave it on for a few minutes. Then, shave your legs as you normally would.
Can You Shave Your Legs Without Shaving Cream?
You shouldn't be in the habit of shaving your legs with or without the use of shaving cream. As a matter of fact, it is always a better idea to use shaving cream than not to use it.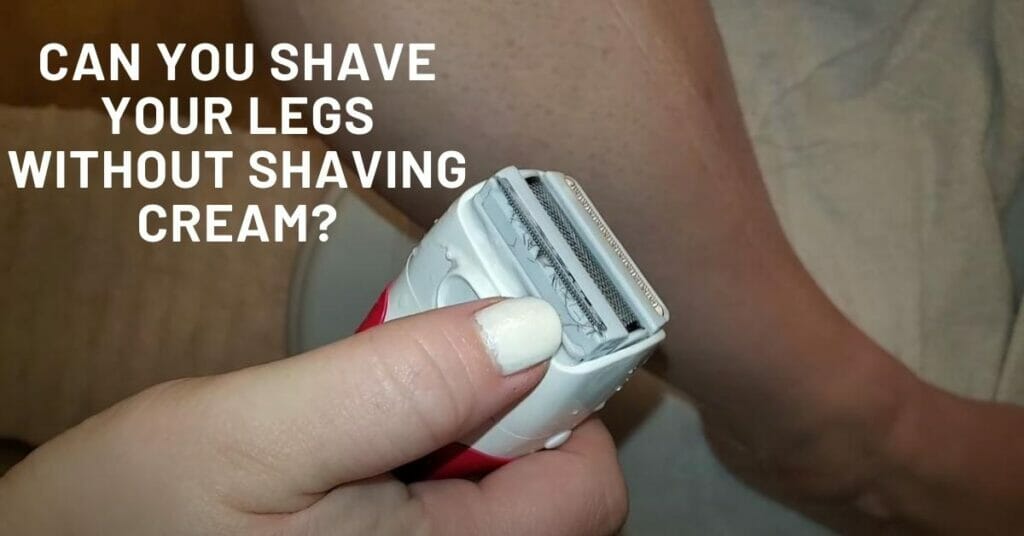 Shaving cream helps the razor glide over the skin smoothly and gently, which ultimately helps to avoid shaving bumps and skin irritation. Shaving cream is an excellent lubricant that will enable you to have a much smoother shave.

Get a shaving cream that will enable you to have a smooth and easy shave. You can look for a shaving cream that has moisturizing properties that will keep your legs well hydrated.
Conclusion: Can You Shave Your Legs With an Electric Razor?
You can use an electric razor to shave your legs. It's a great choice, especially if you find shaving tricky. I prefer electric shavers over manual razors as they are quick and efficient.
As the old saying goes, "a change is as good as a rest," so if you are fed up with conventional razors and are looking for a change, then an electric shaver may be the best way to go.
Many people using electric shavers for a long time and have not had any skin irritation from them. So, go ahead and get an electric razor and start shaving your legs the easy way.
I hope you enjoyed our blog on how to shave your legs with an electric razor. I know that it can be difficult to find the time to shave your legs, so I hope that this blog post helps you to find a way to shave them quickly and efficiently!
If you have any other questions or concerns about shaving ask in the comment section. Thank you for reading, we are always excited when one of our posts is able to provide useful information on a topic like this!